Over the past several years, Ansgar Holtgers, Jr. and his family's Gut Einhaus have been making a name for themselves on the North American show jumping scene, and while their success cannot be attributed to any one thing, a major factor in the equation has been Equiwinner.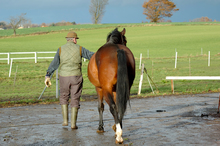 Equiwinner non-transdermal adhesive patches contain naturally balanced electrolytes that enable the horse's body to recognize the electrolytes in the patches and responds to them.
© 2016 by Lars Christensen New window.
One of the most talented juniors in the game, the German-born Holtgers competes at the Grand Prix level throughout the United States and Canada at major equestrian venues, such as Spruce Meadows, the Kentucky Horse Park and in Wellington, Florida.
He was part of the gold medal-winning team at the 2021 Neue Schule/USEF Team Jumper Championships and earned an individual gold medal at the 2022 Neue Schule/USEF Junior Jumper Championships. As of November, 2023, Holtgers has 15 victories in FEI competition.
For nearly 10 years, Gut Einhaus has depended on Equiwinner for their horses when they travel both domestically and internationally.
"Equiwinner is a vital part of our routine at Gut Einhaus LLC," said Holtgers. "Currently, we use Equiwinner patches on all of our horses when traveling to shows. We begin them on a regimen a few days before their departure and continue throughout their travel and upon arrival. The patches have made a big difference for our horses when they travel by ground to Spruce Meadows in Calgary from Lexington and Wellington in the summer."
With the Holtgers family hailing from Germany, the farm also regularly imports horses from Europe to the U. S. to compete, and they have found Equiwinner to be helpful in transitioning them to their new environment and routine.
"We start all of our new arrivals from Europe on a course of patches, which aids in their recovery from the trip, as well as their assimilation into the climate of our home base in Wellington, Florida," he said. "We also use Equiwinner patches whenever we have a horse that feels a little down and could use a boost."
Equiwinner non-transdermal adhesive patches contain naturally balanced electrolytes that, rather than transferring electrolytes to the horse, the horse's body recognizes the electrolytes in the patches and responds to them. This easy 10-day treatment gets electrolytes working properly for optimum electrolyte balance as nature intended, having a positive effect on everything from dehydration, anhidrosis and exercise-induced pulmonary hemorrhage (EIPH) to headshaking, skin issues and more. Results can last up to six to twelve months.
"Ansgar and Gut Einhaus operate at the elite levels of the sport of show jumping, so it's no surprise that they don't travel far without patches on their horses to arrive at their destination happy, hydrated, and ready to compete." said Barbara Socha, owner of Signal-Health, the North American distributor of Equiwinner.
Equiwinner patches can also be used individually during equine transport, or any other stressful situation. An individual patch will help your horse with the stress and keep the electrolytes working properly when the patch is on the horse.
This individual use of patches should not replace your horses' regular ten-day treatments since there is no long-term lasting effect from individual patches. Remember, an individual patch is only good for 24 hours. If you're traveling for 2 days, use a new patch each day, just like during a 10-day treatment. If you transport horses often, it's a good idea to always have an extra box of patches around.
---
Press release by Barbara Socha