The full portfolio of Zoetis equine gel and paste dewormers now have a fresh look. Quest® and Quest® Plus Gel, Anthelcide® EQ Paste and Strongid® Paste remain the same trusted formulations; however, the new packaging reflects the season the product may be most effective in treating and controlling equine parasites.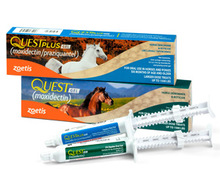 Zoetis dewormers have a fresh look reflecting when the product may be most effective in controlling equine parasites.
© 2018 by Zoetis
In addition to updated packaging, Quest and Quest Plus now treat horses up to 1,500 pounds with one tube. Quest and Quest Plus are the only FDA-approved dewormers on the market that treat and control encysted small strongyles, bots and roundworms in a single dose. Quest Plus also treats and controls tapeworms, to help meet your horse's individual deworming needs.
"There are two keys to safe and effective deworming: a fecal egg count or FEC test, so you know which parasites to target, and an accurate weight for each horse," said Kenton Morgan, DVM, Equine Technical Services, Zoetis. "Prior to purchasing a dewormer, ask your veterinarian to conduct an FEC test. The FEC results, combined with a risk assessment, will lead to the development of an individualized deworming program to meet your horse's unique needs."
All dewormer treatment doses are based on the weight of the animal. Underdosing horses when deworming can contribute to parasite resistance. Use a scale or weight tape prior to each deworming.
Zoetis is the only company to provide an equine deworming product in each active ingredient class, which enables the design of Individualized Deworming™ programs for every horse at every parasite risk level. To purchase Zoetis equine dewormers, visit your local veterinarian or retailer. Learn more at QuestHorse.com
Do not use Quest Gel or Quest Plus Gel in foals less than 6 months of age or in sick, debilitated and underweight horses. Do not use in other animal species, as severe adverse reactions, including fatalities in dogs, may result.
About Zoetis
Zoetis (NYSE: ZTS) is the leading animal health company, dedicated to supporting its customers and their businesses. Building on more than 60 years of experience in animal health, Zoetis discovers, develops, manufactures and markets veterinary vaccines and medicines, complemented by diagnostic products, genetic tests, biodevices and a range of services. Zoetis serves veterinarians, livestock producers and people who raise and care for farm and companion animals with sales of its products in more than 100 countries. In 2017, the company generated annual revenue of $5.3 billion with approximately 9,000 employees. For more information, visit www.zoetisUS.com.