Brand Names
AniHist
Hist-EQ Powder
HistaGranules
HistALL
Tri-Hist® Granules
Description

Antihistamines are used to counteract histamines that lower blood pressure and cause the inflammation and itching of allergic reactions. Although antihistamines do not block the release of histamine, they compete with histamine for uptake at the histamine receptors on sensitive cells in the respiratory tract, intestines, blood vessels, and skin.
Usage
Pyrilamine maleate and tripelennamine are used to treat allergic reactions in horses. Injectable antihistamines, such as pyrilamine maleate and tripelennamine, act rapidly and are often used for allergic reactions such as tongue or facial swelling due to bee sting, insect bite, or contact with an irritating plant. Oral antihistamines take longer to act and are often used in cases of itching and swelling due to allergic skin problems.
In cases when antihistamines alone are unable to control all allergic signs, they may be used with corticosteroids, thereby allowing use of a lower dose of corticosteroids.
Dosage and Administration
Antihistamines
Method
Dosage
(click row for calculator)
Concentration
Period
Duration
Oral
30 mg/100lb Tri-hist granules
600 mg/oz
Every 12 hours
NA
Intravenous, Intramuscular or Subcutaneous injection
0.9-1.3 mg/kg Pyrilamine maleate
50 mg/ml
2 to 4 times daily
NA
Intramuscular injection1
0.5 mg/lb Tripelennamine hydrochloride
20 mg/ml
2 to 4 times daily
NA

Notes:

Federal law restricts this drug to use by or on the order of a licensed veterinarian.
1Warm the solution to near body temperature. Using aseptic precautions, administer intramuscularly into the heavy musculature of the hind leg or cervical area.
Calculator is for educational purposes only. Follow your veterinarian's instructions regarding use of this, or any medication.
Side Effects
The most common side effect of antihistamines is sedation. Other side effects include excitement, tremors and seizures, colic, and loss of appetite.
Precautions
Individual horses may react differently to antihistamines and dosage should be based on the horse's age and condition. Antihistamines may thicken mucus in the respiratory tract, so extra precautions should be taken when used to treat horses with respiratory problems. Directions for administration should be followed with injections of pyrilamine given slowly since rapid administration increases the possibility of side effects. Tripelennamine should be administered intramuscularly.
Pyrilamine and tripelennamine are FDA approved for use in horses. U.S. federal law restricts this drug to use by or on the lawful written or oral order of a licensed veterinarian.
Pyrilamine maleate and tripelennamine are prohibited or regulated in most sanctioned competitions. Consulting the individual regulatory group is essential for determining provisions in rules for the therapeutic use of these substances.
Interactions
Antihistamines may affect the activity of anticoagulant drugs such as warfarin. When combined with other central nervous system depressant drugs, such as tranquilizers, antihistamines have an additive effect.
Overdose
Overdoses may cause increased sedation and severity of other side effects.
Images

HistAll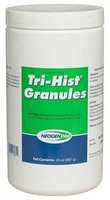 Tri-Hist
Product labels
Literature