Brand Names
Robaxin-V Injectable
Robaxin-V Tablets
Description

Methocarbamol is a centrally-acting muscle relaxant chemically related to guaifenesin. The exact mechanism of action is not known, but it is used to treat muscle spasticity in a number of clinical conditions. An increase in tonic stretch reflexes originates from the central nervous system with involvement of descending pathways and results in hyperexcitability of motor neurons in the spinal cord.
Methocarbamol alleviates the muscle spasms by blocking interneuronal pathways in the spinal cord and in the midbrain reticular activating system. Methocarbamol also has a sedative effect that may be beneficial to anxious animals that are in pain.
Usage
Methocarbamol is commonly used as an adjunct therapy of acute inflammatory and traumatic conditions of skeletal muscle to reduce muscle spasms in cases involving trauma, myositis, muscular and ligamentous sprains and strains, intervertebral disk disease, tetanus, strychnine poisoning, neurologic disorders, and breakdown of muscle cells.
Dosage and Administration
Methocarbamol
Method
Dosage
(click row for calculator)
Concentration
Period
Duration
Intravenous injection
2-10 mg/lb
100 mg/ml
Treatment
NA
For severe conditions (tetanus)
Intravenous injection
10-25 mg/lb
100 mg/ml
Treatment
NA

Notes:

Federal law restricts this drug to use by or on the order of a licensed veterinarian.
Extra-label use of drugs in treating animals is allowable only by licensed veterinarians within the context of a valid veterinarian-client-patient relationship, and does not include drug use in treating animals by the layman (except under the supervision of a licensed veterinarian).
Calculator is for educational purposes only. Follow your veterinarian's instructions regarding use of this, or any medication.
Side Effects
The most common side effect is sedation. Salivation and staggering are sometimes seen after rapid intravenous administration.
Precautions
Methocarbamol can cause sedation and central nervous system depression, resulting in impaired coordination.
Injection site reactions may occur if blood leaks back into the injection site.
Injectable methocarbamol should be used with caution in animals with decreased kidney function, horses that are dehydrated, or have severe symptoms of tying up.
Injectable methocarbamol is FDA approved for use in horses. Oral methocarbamol is a human drug and is not FDA approved for horses, although it is commonly used and is accepted practice. Methocarbamol is a prescription drug restricted to use by or on the lawful written or oral order of a licensed veterinarian.
Methocarbamol is a regulated or prohibited substance in most sanctioned competitions. It is important to check with the individual regulatory organization.
Interactions
Additive central nervous system depression may be caused by giving methocarbamol with other drugs that depress the central nervous system.
Overdose
Overdoses usually cause central nervous system depression, excessive sedation, staggering, altered reflexes, and prostration. Treatment for overdose is supportive until drug is cleared to nontoxic levels.
Images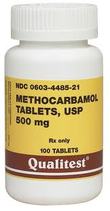 Methocarbamol Tablets

Methocarbamol Tablets
Literature