Most injuries occur during a regular day's work. By being aware of risks involved in daily life around the barn and stable, you can prevent many accidents from happening and by doing so prevent injuries to both people and horses.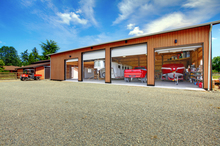 Farming and ranching ranks 6th in terms of dangerous occupations, principally because of the dangers associated with use of powerful machinery and equipment.
Having a safe barn requires looking at safety with regard to both human and horse dangers. In general, confined spaces are problematic for horses. When you combine mutliple animals and people in a barn setting, the dangers rise exponentially. Taking your time to think about and plan for safety will result in less injury and reduced liability.
Safe use of machinery and equipment
Tractor tragedies
Tractor overturns are a leading cause of death for farmers and farm workers. Roll bars and seat belts are 99% effective in preventing rollover deaths, while the roll bar alone prevents more than 70%, researchers say.
Tractors, three-wheelers and other transport vehicles are often used casually in the barn and farm setting without considering the fact that they can be dangerous and possibly lethal if used improperly or as toys for fun and entertainment.
A responsible owner will make sure everyone that uses machinery and equipment including transport vehicles uses common sense and is well versed in how the piece of equipment operates, how to keep all equipment in good repair, and the importance of making safety a priority at all times.
Careful housekeeping prevents accidents
Tripping over objects that have been left lying around or becoming impaled on a piece of wire or a pitch fork carelessly discarded on the floor or in an unexpected area can cause serious injury.
One absolute rule in every barn should be to put all equipment back where it belongs as soon as it is no longer being used. Anything from a dropped horse shoe to a piece of wire fencing carelessly thrown against a wall, can cause more damage than can be imagined. Both humans and horses may get caught or hurt themselves on equipment, objects, or tack that is carelessly left in inappropriate places.
Preventing horse and human falls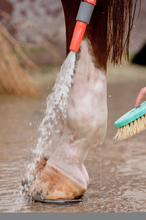 Metal horseshoes on slick concrete are a recipe for a fall. Ask the cement contractor for a textured (brushed) surface or better still, use rubber stall mats.
Many barn injuries are the result of falls or of slipping on wet surfaces. The most common barn injury, other than an injury inflicted by a horse, is a fall from the hay loft or another high place.
Care should always be taken when climbing into or out of hay lofts, as well as when lowering bales of hay or other materials from high storage areas. Unstable structures, including ladders and railings, should be removed or repaired.
Electrical cords, outlets, water heaters, and all things electrical can lead to severe shocks, especially when used around water. To prevent shocks to both horses and people, make sure that all electrical cords, outlets, water heaters and other electrical equipment are well-grounded and kept in good repair. A frayed cord can easily shock a horse or human if allowed to come in contact with water. Make sure that all electrical equipment is UL approved and safe to use around water.
Barn and stable electrical safety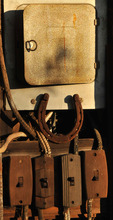 This is an area where the horse owner should rely on a licensed contractor following "best-practices" in barn wiring.
Electrical power enters the barn through a control panel and a main switch. The control panel contains either fuses or circuit breakers and has a shut off that can be used in an emergency.
If a power stoppage occurs, check the control panel to see if a fuse has blown or if a circuit breaker has been tripped. Be sure to determine the reason for the stoppage and correct the situation. If power stoppages continue, consult an electrician.
Make sure that your electrical system is grounded and protect wires and rods from damage. If an appliance or device gives the user a shock, turn it off and have a qualified electrician correct the problem. Never insert a screw driver or another metal device into an appliance or outlet without disconnecting or unplugging it first.
Outside the barn be aware of overhead and underground power lines. Keep all equipment such as ladders, antennas, and poles away from power lines. If a power line is downed, call the electric company and keep everyone, including animals away from it until help arrives.
Safe hay storage
Store only fully-dried hay in a structure that is built to prevent moisture from entering it. Large, round bales tend to contain mold spores especially when stored inside. Use caution and wear respiratory equipment if necessary when feeding horses or tearing bales apart to avoid lung and respiratory damage.
If at all possible, hay should be stored in a separate structure rather than in the barn where horses are kept. Keep hay away from heating and electrical sources. Make sure hay is stacked so that it will not tumble over on workers. Install handrails and railings around hay storage areas. Make sure all ladders are of good, strong construction and properly used. If wall ladders are used, make sure that they are securely attached to the wall.
Dig deeperTM
The University of New Mexico has published an excellent farm and ranch safety audit document. It includes a checklist that you can use to discover safety issues that may be present in your barn or on your farm.