Despite the challenges posed by the COVID-19 pandemic, the equine industry is stable based on the number of horses owned/managed, according to the results of a survey1,2 by American Horse Publications (AHP) sponsored by Zoetis.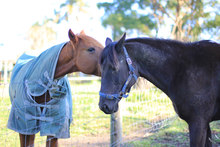 Coming on the heels of the COVID-19 pandemic, the survey serves as an important benchmark in the health of the equine industry now and in the future.
© 2008 by Louis New window.
The survey, which includes responses from 7,267 horse owners/managers, found that the top three issues facing the industry are land use issues, horses in transition or at risk, and the increased cost of horsekeeping.
And, while vaccination rates are stable, survey respondents indicated they are following updated deworming recommendations and adjusting their frequency if needed.
"The results from the 2021 AHP Equine Industry Survey reveal overall stability in the U.S. equine industry in spite of unique challenges posed by COVID-19," said Jill Stowe, Ph.D., professor of agricultural economics at the University of Kentucky, who analyzed the data and consulted on the results. "Based on respondents' input on management and issues facing the industry, our leaders have helpful information to guide strategic planning and decision-making for the long-term benefit of the industry."
The survey, which was conducted from January 18 through April 9, 2021, has three primary objectives: to gauge participation trends and management practices in the U.S. equine industry, to identify critical issues facing the equine industry as perceived by those who own or manage horses, and to better understand approaches to horse health care. AHP conducted similar surveys in 2009-2010, 2012, 2015 and 2018.
Survey Key Conclusions
Continuing the trend from previous studies, the U.S. equine industry appears to remain fairly stable based on the number of horses owned/managed.
More than 85% of respondents have experienced an increase in horsekeeping costs.
Based on results from this year's survey, the top three issues currently facing the equine industry are land use issues, horses in transition or at risk, and the cost of horsekeeping.
There is a continued increase in the prominence of the role of veterinarians in providing routine health care, such as vaccinating and deworming. While there are no significant differences in vaccinating horses compared to the previous survey, this survey shows a continuing trend in which respondents are deworming less frequently.
The survey indicated that about 20% of horse owners/managers used telemedicine to provide equine health care services during the COVID
---
Press release by AHP