California Governor Jerry Brown had a sobering message for Californians after a week of raging wildfires: "This is your new normal." A half dozen fires have collectively scorched nearly 200,000 acres in California since last week and destroyed 792 structures, according to officials.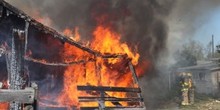 The Lilac Fire in Southern California has been devastating to horses at San Luis Rey Downs where 46 horses perished this past week and a horse trainer was seriously injured while trying to save them.
© 2017 by PreventBarnFires
San Diego County is one of the areas hard hit by the wind-swept fires. The Lilac Fire was particularly devastating to the large horse population situated at San Luis Rey Downs.
According to the California Horse Racing Board, 46 horses perished when the Lilac Fire destroyed nearly half the barns at the San Luis Rey Downs training center.
Officials have determined that the horses perished when the fire tore through equine country in Bonsall where as many as 495 horses, including thoroughbreds, are stabled.
The tragedy has prompted an outpouring of donations at the Del Mar Fairgrounds and other smaller facilities, where volunteers are assisting horses and their trainers displaced by the fire.
"What we believe is a small number of horses escaped from a trampled-down fence to the hills," California Horse Racing Board spokesman Mike Marten said, "Their status is unknown." The effort to account for all horses has been challenging because horses and trainers frequently come in and out of San Luis Rey.
More than 800 horses from San Luis Rey and other facilities, as well as their trainers and owners, are being housed at Del Mar. They've been assisted by countless volunteers and donations of cash, food and supplies, said Luis Jauregui, a safety steward with the state racing board who was helping at Del Mar on Saturday.
Costco has provided hundreds of pounds of apples and carrots, resulting in a surplus.Jim Mcingvale, a Houston furniture store owner known as "Mattress Mack" for his philanthropy after disasters, has supplied 65 mattresses so that trainers and horse owners have a place to sleep while their horses are being stabled at Del Mar.
Presently, the fast-moving Lilac Fire has consumed 4,100 acres since it ignited in San Diego County. Firefighters have regained control of it, and it is 60% contained.