The American Wild Horse Campaign (AWHC) is calling for the U.S. House Natural Resources Committee to conduct an oversight hearing of the Bureau of Land Management (BLM) Wild Horse and Burro Program amidst mounting evidence of widespread mismanagement, animal abuse, and slaughter of federally protected wild horses and burros.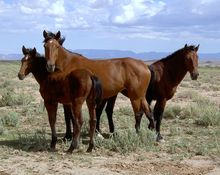 Oversight from Congress is needed to rein in this federal program that's costing taxpayers more than $100 million annually, and thousands of wild horses freedom and often, their lives.
© 2017 by Kersti Nebelsiek New window.
The call comes as BLM's wild horse roundup in the Sand Wash Basin Herd Management ARea concluded today in northwestern Colorado, leaving a trail of cruelty that includes orphaned foals left alone to die on the range, horses with broken legs and other tragic injuries, horses chased for miles at high speeds and in high temperatures to pure exhaustion, then slammed into overcrowded trap pens.
The roundup was halted early after 10,000 outraged citizens called and emailed the BLM yesterday. A total of 529 wild horses were removed from within the Herd Management Area and all but 50 will be shipped to BLM holding pens located at a state prison facility in Canyon City.
"The BLM appears to be hellbent on removing 90 percent of America's wild horses and burros, and is ignoring the will of the public, federal law, and compelling evidence that the mass roundups are leading to abuse and slaughter of these national icons," said Suzanne Roy, executive director of the American Wild Horse Campaign.
"Oversight from Congress is needed immediately to rein in this out-of-control federal program that's costing taxpayers more than $100 million annually, and is costing thousands of magnificent wild horses their freedom, their families and often, their lives. "
The decision to convene an oversight hearing is in the hands of Arizona Congressman Raul Grijalva, Chair of the House Natural Resources Committee, and the Committee's Subcommittee on Public Lands, chaired by Colorado Congressman Joe Neguse.
AWHC has prepared an official complaint with the BLM seeking investigation of violations of the BLM's Comprehensive Animal Welfare
Program policies at the Sand Wash Basin roundup, including:
Four vulnerable foals separated from their mothers, left alone overnight in the wild, unable to nurse and left hungry.
Wild horses — including young foals — chased by helicopters at a high speed for miles to pure exhaustion. (Video here.)
Horses chased dangerously close to barbed wire fencing that is not flagged to prevent the horses from crashing through it (Photo here).
Horses run at top speed into crowded trap pens resulting in the trampling of foals and fighting between stallions. (Video here.)
Deceptively misclassifying causes of death as non-gather related for horses suffering injuries that were likely caused in the roundup including a foal exhibiting symptoms of capture shock (run to the verge of death).
AWHC maintains that such animal welfare violations are widespread and occur at BLM roundups across the West. After the roundups, captured horses are being warehoused in feedlots and being funneled to slaughter through the BLM's adoption and sales program. AWHC urges the congressional oversight committee to hold a hearing to address these issues.
About American Wild Horse Campaign
The American Wild Horse Campaign (AWHC) is the nation's leading wild horse protection organization, with more than 700,000 supporters and followers nationwide. AWHC is dedicated to preserving the American wild horse and burros in viable, free-roaming herds for generations to come, as part of our national heritage. In addition to advocating for the protection and preservation of America's wild herds, AWHC implements the largest wild horse fertility control program in the world through a partnership with the State of Nevada for wild horses that live in the Virginia Range near Reno.
---
Press release by Ameila Perrin