Horse lovers up in arms over a Bureau of Land Management (BLM) decision to block adoption of a wild horse mare and her rare twin foals this week launched an international petition drive and a #freethetwins social media campaign to convince the agency to adopt the unique mustang family to an Oregon sanctuary.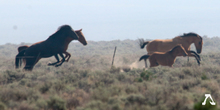 Adoption was blocked by Specialist Rob Sharp, who has plans for the mare to be separated from her foals and used in BLM's cruel mare sterilization experiments.
© 2018 by AWHC
Skydog Sanctuary, which operates a 9,000-acre refuge for wild horses and burros near Prineville, Oregon, was originally contacted by workers at the BLM Burns Corrals, where the twins were born last week.
Skydog immediately offered to adopt the horses and provide the special care they needed. [Twin births are very rare in the horse world. According to the University of California, Davis Center for Equine Health, about 80% of twin pregnancies never make it to term and those that survive often need specialized care due to malnourishment.]
But the adoption was blocked by BLM Burns Wild Horse and Burro Specialist Rob Sharp, who has other plans for the mare she will be separated from her foals and used in BLM's cruel mare sterilization experiments this summer.
"This mare and her beautiful foals are a miracle and require and deserve special care," said Clare Staples, President of Skydog Sanctuary. "I'm calling on the horse-loving community in the U.S. and abroad to help us convince the BLM to keep this innocent mustang family together, and I pray that compassion and the will of the people will cause the BLM to reverse its heartless decision."
The mare is slated to become an experimental subject this summer when the BLM will conduct an archaic surgery, known as "ovariectomy via colpotomy," on her. The mare's ovaries will be removed via the procedure, which equine veterinarians as barbaric, painful and dangerous, and the National Academy of Sciences concluded was "inadvisable for field application" due to the risk of infection and bleeding.
"In October, this mare was stampeded by helicopter and separated from her herd all while carrying a twin pregnancy," continued Staples. "She and her foals represent the strength and resilience of wild horses. They deserve to be at sanctuary, not torn from each other and subjected to risky and invasive experiments."
The American Wild Horse Campaign, the nation's largest wild horse advocacy organization with over 700,000 followers and supporters nationwide, has joined in the campaign to free the mare and her twins and send them to Skydog Sanctuary.
For more information please contact Clare Staples, President of Skydog Sanctuary at 310-857-4823 or clareskydog@yahoo.com.
Skydog Sanctuary is a forever home for wild mustangs and burros who have ended up in horrible and dangerous situations - at kill pens, at auctions, in unloving homes where they have often been starved and neglected. It operates locations in Malibu and Mariposa, California and a 9,000-acre ranch near Bend, Oregon.
---
Press release by Grace Kuhn - grace@americanwildhorsecampaign.org - The American Wild Horse Campaign