A number of horses are among the casualties of the multiple wildfires burning out of control in California. The blazes, which were sparked days ago, have destroyed dozens of cars, thousands of homes and businesses, and claimed lives.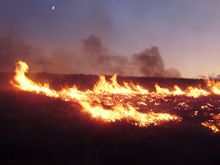 A number of horses and other animals are among the casualties of the multiple wildfires burning out of control in California.
© 2017 by Famartin
In the Anaheim area,hundreds of horses were evacuated to various locations in Orange County. In the city of Orange near Anaheim, horses at the Peacock Hill Equestrian Center were loaded up Monday by local rescuers who had room for additional animals and were taken to safety.
Over 126 horses are now sheltered at the Orange County Fairgrounds. Horses are being kept in temporary stables and cared for, free of charge.
Livestock like goats, pigs, and a steer are also being sheltered at the fairgrounds. Some animals still have to be connected with their owners.
Los Alamitos Race Track has taken in 90 horses.
In the chaos of the many evacuations, some horse and pet owners have had a rough two days not knowing the location and condition of their animals.
In Bangor, the operator of a horse rescue is staying with the 72 horses who reside at the Equine Rescue Center. Monica Hardeman told reporters, "I don't want to leave because I know [officers] won't let me back, so I'm not leaving. Unless somebody puts a gun to me or something I might leave, but … right now, I go where they go and nobody could get up here yesterday [to move the horses], they wouldn't let people in. …I'm not leaving."
Napa County Animal Shelter, 942 Hartle Court, Napa, will shelter dogs, cats, rabbits and other household animals. It also is looking for volunteers who can foster some pets as the shelter fills up.
Pets Lifeline Animal Shelter, 19686 Eighth St. East, Sonoma, 707-996-4577, is taking small pets.
Marin Humane is offering emergency board for animals already evacuated to Marin. Call 415-250-7009 for more information.
If you have large animals, they'll be accepted at Sonoma County Fairgrounds, 1350 Bennett Valley Road; Sonoma Valley High School FFA, 20000 Broadway, Sonoma; and at the Ukiah Fairgrounds, 1055 N. State St, Ukiah.
According to reports, 23 horses perished in a wind-fueled blaze in Kern County. Bakersfield City Fire Department, Kern County Sheriff's Department, California Highway Patrol, and Kern County Animal Services came to the scene of both fires to work toward containment. A number of horses and other animals have been rescued and, courtesy of Kern County Animal Services, the horses and other livestock are being kept at the Kern County Fairgrounds.
As with other fast-moving fires, in addition to pet cats and dogs that people were forced to leave behind, many other domestic animals could not be evacuated in time, including horses, goats, chickens, and sheep. Horses have been found wandering loose, some with cuts or scrapes from having jumped or crashed through fences.
Given the many disasters that can strike suddenly, horse owners and owners of other animals should have a well-thought-out evacuation plan.
Horse owners should keep the following facts in mind:
The safety of you and your family should be the first priority.
The greatest factor in limiting your losses during a wildfire is having and using a preparedness plan.
An equine first aid kit is essential for all horse owners to have in the barn or trailer in case of emergencies.
Prioritize a list of tack to take during an evacuation.
If you get word that your area is being evacuated start the process immediately.
Having a plan and implementing that plan is the greatest factor in limiting your losses. With horses, we are not only speaking of a monetary loss but also the emotional loss of losing your horse which is impossible to calculate in dollars and cents. Your plan needs to be communicated to everyone who is living with you or to anyone who will be taking care of your place in your absence.
Emergency horse evacuation checklist:
horse(s)
paperwork (health certificates, vaccination records, brand paperwork)
first aid kit
horse medication(s), if applicable
ropes
leather halter(s)
water bucket
identity halter/tag
boarding arrangement list
contact list
priority list