It started in 1989, when a compassionate woman glimpsed a buckskin gelding suffering from obvious neglect and decided to give the animal a second chance at life in her own backyard. Now — after that act of kindness shown to the horse named Toby paved the way to saving more than 2,300 abused horses over the decades.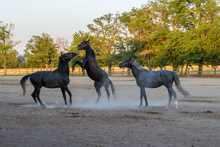 It started in 1989, when a compassionate woman glimpsed a gelding suffering from neglect and decided to give the animal a second chance in her backyard.
© 2015 by Nick Savchenko
Days End Farm Horse Rescue celebrated its 30th anniversary as a rescue, rehabilitation and education operation on April 6, 2019.
Nicky Ratliff, former longtime executive director of the Humane Society of Carroll County, has this to say about Days End Farm: "The place is an anomaly. While it's not difficult to become a horse rescue, most don't stay in business for long," she said.
Ratliff, who is a member of Days End's advisory board, marveled at how far the organization has come. In the early years, board meetings were often held in a barn with hay bales to sit on.
Founder and then-executive director Kathleen Howe was feted at a retirement party in December 2013. One of Howe's main legacies is a how-to pamphlet she created 20 years ago for people interested in starting a rescue, Ratliff said.
"I couldn't say how many rescues became successful because of that pamphlet, but I'd guess 100 easily and probably a whole lot more," she said.
Education, which has always been an integral component of the rescue's mission, takes center stage at Days End Farm according to CEO Erin Clemm Ochoa. Ochoa was handpicked by Howe to be her successor before Howe stepped down five years ago to battle Alzheimer's disease.
After 15 years in multiple capacities, Ochoa heads an organization that continues to break ground on various fronts — not the least of which is outlasting most rescue operations. "In the equine welfare industry, 70 percent of rescues fail within three years," Ochoa said.
If there's a secret ingredient to Days End's survival, it might be rooted in being clear-eyed about what's important and what's achievable. "One of the things that Kathy pressed on me was to stay true to the mission so you're always steering the boat in the right direction," Ochoa recalled.
Not the least of Howe's influence on operations was her insistence that staff give on-the-spot tours of their facility, a policy that continues today. "We're open to the public every day for tours and that's an unheard-of thing. Our customer service policy is we're happy to stop what we're doing and show you around," Ochoa said.
Ochoa also gives credit to the horses for the rescue operation's success, observing that "they have to be able to meet us at least part of the way" to make their rehabilitation a success. "When you look them in the eye and you can see they know you're there to help, those are the moments when you grow from this experience," she said.
A recent visitor to Days End Farm had this to say: It's a nice to place to visit if you are a Horse Lover. Days End Farm is the destination for any horses that are rescued or taken out of bad situations from any of the counties in Maryland. They allow you get close and touch many of the horses they are are currently caring for on site. You can also adopt certain horses to help pay for their general care at the facility.
Another visitor commended the way the farm is run: "I've been to Days End Horse Farm a few times. Every volunteer , every staff member is dedicated to bring back to good health mentally and physically the rescued horses and then getting them ready for their new homes. I believe they call it their forever home."
"They have trained other facilities out of state and have been called out of state to help rescue animals in other states or counties they can only do this if they continue to grow financially. I am happy to support them and no I could never give enough of what they need but also know that all of that money is used for the horse's welfare and benefit."
---
Press release from Days End Farm - content edited for length