The U.S. District Court for the Eastern District of California has issued an order granting a motion by the American Wild Horse Campaign (AWHC), the Animal Legal Defense Fund (ALDF) and local resident Carla Bowers to intervene in a lawsuit filed by private ranchers against the United States Forest Service.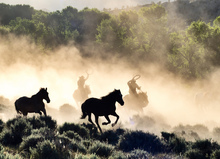 Ranchers with permits to graze cattle in mustang habitat claim Forest Service must remove horses, but wild horse advocates say federal law does not require removal of wild horses.
© 2016 by Damian Zech
The lawsuit seeks to compel the agency to immediately round up 2,000 wild horses from the Devil's Garden Wild Horse Territory in the Modoc National Forest in order to maximize taxpayer-subsidized commercial livestock grazing on the public land there.
"We're grateful that the Court has recognized the legitimate public interest in protecting America's wild horses and has given us the ability to ensure that those interests are adequately represented in this court case," said Brieanah Schwartz, Government Relations and Policy Counsel for the AWHC. "The public lands belong to all Americans and special interests of the ranching industry cannot dictate federal wild horse management policy."
The Territory contains one of California's largest and most significant remaining wild horse populations. Ranchers who hold permits to graze cattle and sheep in the mustangs' habitat claim that the Forest Service is legally obligated to remove horses from the Forest, but AWHC and ALDF say federal law makes clear that removal of wild horses is not required simply because their population exceeds the agency's imposed population limit.
Instead, the groups say that the Forest Service has discretion to manage the horses humanely in a variety of ways, including reducing commercial livestock grazing, use of scientifically-recommended fertility control and smaller, incremental removals over time to assure placement in quality, adoptive homes.
Just last week, the Forest Service announced its plan to conduct another roundup of the Devil's Garden at the same time as it released a census showing far fewer mustangs live in the Forest than previously claimed.
Under pressure from local ranching interests, the Forest Service seeks to reduce the wild horse population to between 206-402 in the Forest while authorizing over 3,700 cow/calf pairs and 2,900 sheep to graze for six months a year on the public lands there.
As an alternative to the unsustainable roundup and removal of wild horses, AWHC had proposed implementing and funding a pilot fertility control project to humanely reduce population growth rates in the herd, as recommended by the National Academy of Sciences. However, the Forest Service has declined to proceed with the offer.
More information on the Devil's Garden wild horse situation can be found here.
---
Press release provided by Grace Kuhn, American Wild Horse Campaign