Two horse barn fires leaving a number of dead horses during July support the importance of proactive fire prevention practices in barns and stables.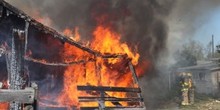 No horse owner wants to think about the tragedy and loss from a barn fire, but prevention protocols need to be in place and followed with diligence to prevent the losses suffered even in relatively minor barn fires.
© 2017 by Equine Guelph
In Texas, Dallas Fire-Rescue crews were dispatched to to a farm area on Thursday, July 27, 2017. In the aftermath of the fire, two dead horses were discovered in their stalls.
On July 5, a large barn fire in the Chicago suburb of Plainfield, eighteen horses died and two people were injured. The barn boarded horses and about 30 were in the structure when the fire started. A dozen horses were saved byh the owners and firefighters.
Preventing barn fires should be a high priority for all horse owners and farmers.
No one wants to think about tragedy and loss but prevention protocol needs to be followed with diligence. Just one stray cigarette butt in an area with combustibles (like hay and shavings) is a recipe for disaster and it only takes an uninformed visitor.
It would be hard to forgive forgetfulness if an unattended fan or heater started a fire. An extinguisher that does not work in a time of need is just another great reason to make time for checklists and to ensure everyone at the stable has training on emergency procedures.
Barn housekeeping details are easy to put off but prove critical in fire prevention. Trimming of weeds, grasses and brush from around buildings and regular removal of rubbish are great examples. Removing cobwebs regularly, sweeping up loose hay in the barn and storage areas and dusting are all good housekeeping to reduce those combustible fuel sources.
Those items for the seasonal and annual agenda are often the most neglected. When was the last electrical wiring inspection and test for the smoke alarm? A qualified electrician should evaluate your facility. Your local fire department can help you by walking through your facility and provide recommendations for a pre-plan.
Equine Guelph has developed a remarkable barn fire prevention checklist with a series of fire prevention interactives to cover important topics: http://www.equineguelph.ca/Tools/fireprevention.php
Here are three areas of importance when it comes to barn fire prevention:
ELECTRICAL
•Unprotected wiring prone to rodent damage
Deteriorated electrical breaker/fuse panels/deteriorated loose connections
Extension cords & power bars without properly installed permanent wiring
APPLIANCES
•Use of portable fans/heaters
Use of household appliances (i.e. coffee makers, microwaves and fridges)
Laundry-dryer's electrical plug connection failures, lint build up and improper exhaust
STORAGE & USE OF FLAMMABLES IN BARN
Motorized vehicles stored or used in barn
Hay & bedding stored in barn
Fuel & other flammables stored improperly