"When you love your animals, you can never be alone. They occupy your every day and take residence in your mind 24/7. I love animals, and it is so important to me bring the principles of force-free and pain-free training to the minds of anyone who owns, loves, or works with horses or any kind of animal." ~Monty Roberts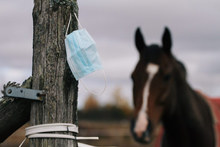 For all the stress that Covid-19 brought in 2020, the year came with a broader focus on the benefits of being with horses and being outdoors.
© 2020 by Evan Young New window.
For all the stress that Covid-19 brought in 2020, the year came with a broader focus on the benefits of being with horses and being outdoors. Rather than 'good riddance' many instead said, 'Let's go riding!'
A lot of people who were no longer commuting to the office, found they had extra time to enjoy their horse and in some cases they were even more appreciative of their time with their horse. One of my dear friends was always promising herself that she would someday buy a little place with a barn where her horse could live with her and her family. She decided this was the moment and moved her family to the Midwest to enjoy a simpler life with a little property. She still works via videoconference and is much happier.
For others, a shift in family priorities and recognizing that life balance is important, they made the leap into horse ownership for the first time. 2020 was a banner year for recreation of all kinds and horses provide all the benefits of being outside, exercising and companionship on top of it all.
Our community of horse lovers embraced them and provided encouragement for first time horse owners. We saw a growth in volunteerism at Equine Therapy Centers, adopting innovative ways to stay safe while learning skills to aid horses and people.
Adoptions of horses soared in 2020 to a 15 year high, and we even adapted new language to recognize that horses can have multiple careers. Instead of 'rescue horses' we like to say 'transition horses' who can be re-trained and find forever homes with loving owners who appreciate the qualities of a horse, no matter the breed or age.
Nationally, many issues regarding horse welfare moved to the forefront of policy makers' minds and reminded us that we are a nation of people who want to keep improving our care for our animals, domestic and wild.
A victory for animal welfare came in the form of the December 2020 year-end spending bill where Congress added a rider to ban race-day doping of Thoroughbreds, wrapping up an eight-year campaign to end medication abuses thought to contribute to breakdowns and deaths on horse racing tracks everywhere.
The Horseracing Safety and Integrity (HISA) Act is now law and my friend Marty Irby, executive director at Animal Wellness Action, who was recently recognized by Her Majesty Queen Elizabeth II for his work to protect horses, testified before Congress in support of HISA. Many wonderful horse lovers saw this through to completion and have forever changed horseracing for the better in the United States.
This is the legacy of 2020 for our family. Horse's lives have been improved and so have people's lives. Our essential programs for veterans and youth, with approval from the county health department, carried on with just a slight reduction in numbers.
We were honored to be able to facilitate our Horse Sense & Healing and Lead-Up programs. We also launched our Monty Roberts Mustang & Transition Horse program with a generous grant from The Right Horse of the ASPCA. We have been able to place eight horses in loving homes since October.
This past year may have tested our limits but it also reaffirmed our values. Community and caring industry influencers have been silver linings in a grey colored year. Horses do that for us and we are grateful that horses are in our lives, providing us with opportunities to demonstrate compassion and innovation.
If you are an outdoorsy person but not yet a horse lover, go ride a horse and see what we mean.
---
Press release provided by Debbie Roberts Louck