New Vocations Racehorse Adoption Program announced today that 50 horses have been adopted for the Retrained and Remarkable Challenge, which was launched on March 1, 2018. The Challenge was created to bring about a fundamental change in how racehorses are viewed by the public.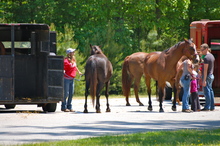 The program seeks to place 100 Challenge-eligible retired Thoroughbred and Standardbred racehorses in qualified homes and second careers in a 10-month period.
© 2013 by Virginia State Park
An incentive-based program that offers free shipping and a competition component to eligible horses, the program seeks to place 100 Challenge-eligible retired Thoroughbred and Standardbred racehorses into qualified, loving homes and second careers in a 10-month period.
"This unique program is designed to highlight everything these horses can do once they retired from the track," Thoroughbred Program Director Anna Ford explains. "Through the R&R Challenge, we hope to debunk myths surrounding racehorses, as well as educate equine enthusiasts on common race-related injuries and stable vices, encouraging a better understanding of what will or will not be a limiting factor in a second career."
With 50 horses adopted in less than five months (the halfway point of the program), the Retrained and Remarkable Challenge is rapidly gaining traction with horse lovers. Horses that are part of the Challenge are eligible for a shipping credit of up to $500 and are eligible to compete in Challenge-specific classes at the 2019 New Vocation Charity Horse Show Series. These classes will offer up to $5,000 in cash and prizes.
"Innovative programs like the R&R Challenge are encouraging more prospective horse owners to consider adoption when acquiring a new horse," said Christy Counts, President of The Right Horse Initiative. "We are thrilled that 50 adopters have already found their Right Horse through the Challenge and look forward to celebrating more successful matches."
The Retrained and Remarkable Challenge is a Right Horse Initiative Project generously funded by the WaterShed Animal Fund, which invests in innovative programs with exemplary institutions and individuals to better the lives of companion animals. For more information about the Challenge, visit newvocations.org.
About New Vocations:
Founded in 1992, New Vocations has grown into the largest racehorse adoption charity in the country. Its mission to rehabilitate, retrain and rehome retired racehorses has led to the placement of over 6,400 individuals, with nearly 500 retirees served by the program each year. With six facilities in Kentucky, New York, Ohio and Pennsylvania, New Vocations serves over 40 racetracks, working directly with owners and trainers in need of equine aftercare options. www.newvocations.org
About The Right Horse Initiative:
The Right Horse Initiative is a collective of industry professionals and equine welfare advocates working together to improve the lives of horses in transition through a dialogue of kindness and respect. Through collaboration with over 40 industry and adoption partners, The Right Horse is able to innovate new and better adoption standards and practices. Together, the goal is to shatter the stigma and reframe the conversation around equine adoption in order to massively increase horse adoption in the United States.