Newsdate: Thursday, June 8, 2023 - 11:00 am
Location: ATGLEN, Pennsylvania
The idea of building two barns instead of one to develop your horse business is double the fun and double the pleasure, especially when it comes to building farm income.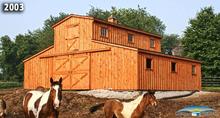 Managing each barn on a separate basis gives the opportunity to choose different product lines, feedstuffs, care levels and hence labor expenses for each business entity.
© 2020 by Horizon Structures New window.
Additional benefits of the dual barn system are flexibility in business planning, 'on hand' enthusiastic help and educational event opportunities that can be held to garner business income.
The practice of larger horse farms operating both a lesson/boarding horse barn and another structure to house their own private horses used for show/breeding/sale or for horses coming in for training is not an uncommon occurrence. There are good reasons why this is a great idea.
Here are the pros for opting in to building two barns not one. And remember, the barns don't have to be identical. Barns come in a myriad of designs and price points. Today's popular modular construction offers endless possibilities for complementary style. The bounty of options in siding/roofing/colors and configurations in these almost 'instant' set up structures that are quickly on hand facilitate the chance to get busy building up business quickly. Let's take a look:
Two business income streams and two different brands can be devised that offer marketing across two entities that can cross promote and market services.
Flexibility in business planning and income and expense management.
Mitigates liability and accident risks.
Offers better time management opportunity for owners/trainers/staff.
Provides option for different caregiving practices and schedules at each barn.
Potential labor resource for private use barn with enthusiastic equestrians next door keen to improve their talents/income.
Helps defray likelihood of profit reductions due to a one-line business model experiencing interruption due to issues such as disease outbreaks or market changes.
Provides privacy and security for owner's private horses, clientele, and business.
Offers suitability in structure design for different purposes for each build.
Cross-pollinating between the two business enterprises and cross-marketing can elevate the exposure and profit for both types of business. For example, this could be in the form of semester-based lesson programs that include educational visits to the private barn on a schedule of events designed around elevating the boarder/student experience. Such events can yield additional income and brand loyalty and provide added value to those clients.
Managing each barn on a separate basis gives the opportunity to choose different product lines, feedstuffs, care levels and hence labor expenses for each business entity.
Horse property owners that run boarding facilities often have horses of their own on site that are utilized for competition, breeding, sales or are brought in for training. The separation of what are likely high energy and high value horses, such as breeding stallions or advanced competition horses from the lesson/boarding equines and their visitors makes sense from a safety and security standpoint.
Human and equine interaction is limited from boarders/students and their entourage of companion visitors to the private barn equine residents. This negates the risk of injuries occurring due to proximity or direct interaction between folks not as experienced around exuberant horse stock and provides more peace and quiet for horses and humans in each barn that can be run on separate schedules.
The separation of horses coming and going from competitions and young breeding stock or gestating mares that are vulnerable to disease or infection from boarders' horses can also lessen the risk of spread of contagious diseases.
Dual barns also offer the opportunity to establish different routines, feed and bedding supplies, tack, and equipment and a different level of security can be provided at each barn.
The exclusion of a myriad of people coming to and from the barn all day long at the private barn also yields more time for the owner/trainer to work in peace without interruptions and creates a private realm where focus can be directed to the training of the horses and work at hand.
Many competition riders and like to work their horses in the morning hours when both horse and rider are fresh, and then head over to the lesson barn in the afternoon to give instruction.
The lesson or boarding barn can be a source of potential labor especially during busy breeding times and offer a potential future client base for horses that are for sale either those bred at the farm or those brought in for training/sale on consignment.
If a catastrophic event occurs that adversely affects one business, for example, a pandemic that rules out visitors for lessons and boarders entering the property, the farm owner has the opportunity to continue building their other business.
A structure that is purposely designed for one task such as handling lesson horses and students where a viewing room, wide aisles and an office is required may not best suit the private horse owner's needs. The owner's horses may be better stabled with direct outdoor paddock access from their stalls via exterior Dutch doors as they may not be exercised every day, or the barn may incorporate larger stalls with surveillance for foaling out.
On the other hand barns built to house competition horses who generally require much more groom time and prepping than lesson horses, scan be fashioned to offer extra designated bath/groom stall space. Additionally, these high-end equine athletes will need specialist medical and/or training care where expensive equipment such as equine water treadmills or specialist medical instruments will be utilized. These products will need a space to live free of inquisition from passersby.
When you design your farm with a view to both function and profit the dual barn design offers immense flexibility for expansion of your business model. One business can literally feed the other in harmony, while keeping your private business and clients private.
For many equestrian property owners, the lesson or boarding business is later discarded and is merely a steppingstone to their end goal or ambitions. When their main business focus of breeding/training/competing/sales attains healthy profitability and brand recognition, the need for the lesson/boarding enterprise is eliminated. This can also occur vice-versa, especially as competitors age up or out of active participation in showing or horse breeding.
Don't be shy to give it a try. Even if you have one barn already constructed and operating, the addition of a second string to your line up can make good business sense as well as fulfilling dreams that might have sat on the back burner due to previous work commitments, responsibilities of family life or financial constraints.
About Horizon Structures:
One horse or twenty, there's one thing all horse owners have in common...the need to provide safe and secure shelter for their equine partners. At Horizon Structures, we combine expert craftsmanship, top-of-the-line materials and smart "horse-friendly" design to create a full line of sheds and barns that any horse owner can feel confident is the right choice for their horses' stabling needs.
All wood. Amish Made. Most of our buildings are shipped 100% pre-built and ready for same-day use. Larger barns are a modular construction and can be ready for your horses in less than a week. All our barn packages include everything you need –
Horizon Structures also sells chicken coops, equine hay feeders, greenhouses, dog kennels, 1 and 2 car garages, storage sheds and outdoor living structures and playsets.
Headquartered in South-Central Pennsylvania, Horizon Structures, LLC is owned by Dave Zook. Dave was raised in the Amish tradition and grew up working in the family-owned shed business. He started Horizon Structures in 2001 in response to an ever-increasing customer demand for high quality, affordable horse barns.
For additional information about the company or their product line, please visit their website at https://www.horizonstructures.com
About Nikki Alvin-Smith:
Content Creator | PR Partner | Seasoned Writer | Brand Builder |
Major Marketer| Journalist|
Blogger| Ghostwriter|
PR Marketing Specialist/Strategist|
British American|
Grand Prix Dressage
Competitor/Coach/ Clinician|
Please visit https://nikkialvinsmithstudio.com/ to learn more about her affordable services.