Newsdate: Wednesday, March 15, 2023 - 10:00 am
Location: ATGLEN, Pennsylvania
Moving horse and home can be a challenging event even for the best organized horse property owner. The decision to 'up sticks' can present many quandaries that have to be addressed to facilitate the move successfully.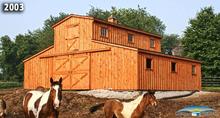 Modular horse barns are amazing in the manner they seemingly 'instantly' appear and are ready to use within hours to just a few days, depending on the size and complexity of the design.
© 2020 by Horizon Structures New window.
Problems such as timeline management for vacating a sold property and closing on the new one, the readiness of the new site for horse occupation and what renovations or changes need to be made to provide adequate housing for the incoming equine residents.
The minefield of decisions to be made for new horse housing and pasture set ups can be difficult to navigate especially if the move is to a new farm a significant distance away or one in a different climate.
Regional and local moving companies will take care of all the 'stuff' associated with our households. But the acquisition of a new horse farm especially one ready for development where horses will need to be stabled or sheltered pending new barn builds requires some savvy planning.
The Zero Turn Horse Farm
If you are doing a 180 degree turn and migrating from livery for your horse(s) to development of a parcel of land that may include a home but has little to offer in the way of barns or storage structures then closing on the property will be just the beginning of a long and arduous journey toward making your horse farm dream a reality that you can sit back and enjoy from the saddle. Even if you are blessed with an infinite budget and can employ experienced construction crews to build it, there will be many delays and decisions to be made.
More likely budget constraints will demand some entrepreneurial and enterprising ideas and adjustments to the final development plan. Often as you live with a property you find even best laid plans change as you develop a sense of the perspective living in the new environment and appreciate the diversity of the land you have acquired.
A simple 'starter' shelter that is budget friendly will be provision of a run-in shed within a well-fenced paddock. If the run-in shed is modular in design, planning permission for its siting may not even be required as long as zoning set back distances are honored.
Prefabricated run-in sheds offer another significant advantage, that of mobility. Large metal tow hooks installed at the corners of the structure facilitate hauling the building from A to B utilizing a pick-up, tractor or UTV.
This can be a great boon for the under-funded newcomer entering the world of horse farm design, who needs to move horses in situ right away, but has not had the opportunity to develop a complete layout and design for the construction process or has the means to finance it right away.
The 'Instant' Fix
Modular horse barns are amazing in the manner they seemingly 'instantly' appear and are ready to use within hours to just a few days, depending on the size and complexity of the design. The 'to the penny' pricing that includes delivery and set up means that no budget overruns are incurred, and many larger manufacturers offer financing options for the cash strapped newbie farm owner.
The huge range of barn styles and designs together with customizations that can be made to any structure when pre-ordered rather than more cheaply purchased off the manufacturer's lot, mean everyone can find something to suit their horse housing needs within budget.
Don't "Ass"ume
If you saw a top quality, sturdy built run-in shed at the Equine Affaire from a respected manufacturer of horse structures and bought one, and then decide to buy another one down the road, don't be an 'ass' and assume that the quality of the build by your local neighborhood shed company is going to be as good as the one you purchased at the event.
As in anything else there are many variances in quality of craftsmanship and materials utilized in construction. The cheapest option is rarely the best, especially when it comes to the industrial strength abuse horses can dish out to buildings over time. Always buy the best you can afford. In the long run, it will save you money.
Stage Post
Remember when moving home and horses that the new property can always be developed piecemeal as finances and needs dictate. Factor this in when embarking on a horse barn purchase to leverage the most stabling and storage out of the spend. For example, don't buy two shed rows and place them next to each other and expect to develop them into a Monitor barn later, but do buy a shedrow and leave a few stalls unfinished and open faced for temporary storage needs for hay/bedding supplies. These can be enclosed later as needs dictate.
Value added features such as lofts can always be included in the original build, with certain details finished later by the property owner, such as cutting out windows in gable ends or adding rails to stairways.
Setting up stage posts along your horse farm development journey will allow you time to refresh your finances and design and siting ideas.
Have Barn Will Travel Options
Companies that deliver and manufacture their own horse barns will often return to move or transport a horse structure they have built should the owner move property altogether and wish to take the run-in shed or shedrow building with them, or simply wish to have a structure moved from one site to another on the property. There is a fee for this service and higher costs will be assessed for larger more involved structures that require transport or/and those buildings that need to be moved farther afield.
Obviously mobility of structures is not possible with a pole or stick-built barn design, or viable financially with larger horse barns, but for smaller modular structures this can be a money saver long term.
Temporary Housing Options
Utilization of an existing dairy barn, or machine shed with temporary stalls erected is sometimes an option.
For safety's sake always protect the horses housed within a metal sided building from injury by sheathing interior wall surfaces with lumber.
Other temporary horse housing solutions include moving your horses into livery in the new neighborhood while you establish the stabling and pasture provisions for your animals. This can be a good temporary solution.
This solution offers the added advantage, that you'll come to know other horse folks in the neighborhood and be able to garner knowledge about reputable suppliers of horse provisions such as hay and bedding and service providers such as vets and farriers.
Work Arounds
Don't be shy to ask the outgoing property owner for help managing the timeline on the move. Many horse folks are open to helping their fellow equestrians solve difficulties. There may be options to start measuring up the building site, moving horses in early, repairing a paddock for use etc. in advance of the final closing.
For most quandaries there is usually a work around that will accomplish a good end result that works for everyone. It often pays to work with the philosophy, "Don't ask don't get".
Enjoy The Journey
For a lucky few the newly purchased farm includes perfect, pristine equine accommodations that offer availability to move the horses in right away. The farm may encompass everything that the horse aficionado has yearned for during their years of horse ownership. But in most situations this is not the case.
Whatever challenges your decision to 'up sticks' and move presents, moving home and horses should be a fun and enjoyable experience. The key to successfully navigating the process is good planning. A sense of humor and some flexibility will serve the horse owner well when it comes to making the move. And most 'quandaries' are easily solved when some diligent research is applied.
About Horizon Structures: One horse or twenty, there's one thing all horse owners have in common…the need to provide safe and secure shelter for their equine partners. At Horizon Structures, we combine expert craftsmanship, top-of-the-line materials and smart "horse-friendly" design to create a full line of sheds and barns that any horse owner can feel confident is the right choice for their horses' stabling needs.
All wood. Amish Made. Most of our buildings are shipped 100% pre-built and ready for same-day use. Larger barns are a modular construction and can be ready for your horses in less than a week. All our barn packages include everything you need –
Horizon Structures also sells chicken coops, equine hay feeders, greenhouses, dog kennels, 1 and 2 car garages, storage sheds and outdoor living structures and playsets.
Headquartered in South-Central Pennsylvania, Horizon Structures, LLC is owned by Dave Zook. Dave was raised in the Amish tradition and grew up working in the family-owned shed business. He started Horizon Structures in 2001 in response to an ever-increasing customer demand for high quality, affordable horse barns.
For additional information about the company or their product line, please visit their website at https://www.horizonstructures.com
About Nikki Alvin-Smith:
Content Creator | PR Partner | Seasoned Writer | Brand Builder |
Major Marketer| Journalist|
Blogger| Ghostwriter|
PR Marketing Specialist/Strategist|
British American|
Grand Prix Dressage
Competitor/Coach/ Clinician|
Please visit https://nikkialvinsmithstudio.com/ to learn more about her affordable services.