Achieving the best performance from a horse is the goal of not just professional riders, but also the millions of amateur and hobby riders all over the world.
A new article published in BioMed Central's open access journal BMC Veterinary Research looks at the issues surrounding training, competition environment and practices, and how the psychology of horse mood, emotion and temperament can be used to enhance performance.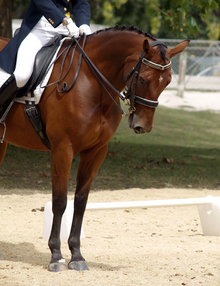 Researchers looked at how behavioral research and behavioral modification techniques could be applied to enhance the performance of horses at competition level.
In a comprehensive review of psychological factors affecting equine performance Dr Sebastian McBride from the Royal Agricultural College and Prof Daniel Mills from the University of Lincoln have looked at how current behavioral research and already established behavioral modification techniques could be applied to enhance the performance of animals at competition level.
This includes matching a horse's temperament to different equestrian disciplines, for example, flightiness can be good for racing but detrimental for dressage.
Dr McBride commented, "Another important consideration is the horses mood and emotional reaction. Although all of these have an intrinsic baseline observable in the young, untrained horse, they can be influenced by training and they are also dependent on the interaction between rider and horse.
Competition riders are well aware how a strange environment, and nerves on competition day, can affect their horse's performance."
According to Professor Daniel Mills, "The increased competitiveness and performance level of equestrian sport means that for each horse and rider pair physical and psychological behavior must be taken into consideration when designing training conditions and increasing motivation to perform at the optimum level of athletics.
They must also be applied to reducing over-emotional reactions on competition day and, given the trained horse's high motivation to succeed, to decrease any negative experiences at competitions which may otherwise impact on future events."