Newsdate: Thursday, March 22, 2023 - 11:00 am
Location: ARLINGTON, Texas
Debuting during The American Western Weekend at Globe Life Field, The American Performance Horseman inaugural event on Friday, March 10, 2023 featured the top professionals from the National Reined Cow Horse Association (NRCHA), National Cutting Horse Association (NCHA) and National Reining Horse Association (NRHA) standings putting it all on the line for a $1,000,000 prize.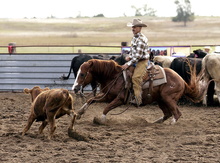 For the first time ever, the top five year-end money earning professionals from the NRCHA, NCHA and the NRHA came together in a competitive exhibition format.
© 2017 by Dale A. Stork New window.
Adan Banuelos, Casey Deary and Sarah Dawson claim championship titles within individual disciplines.
For the first time ever, the top five year-end money earning professionals from the NRCHA, NCHA and the NRHA came together at the 42,000-seat Globe Life Field. The competitive exhibition format fused the elements of history and competition in an ode to the past, present, and future of western performance horse sports.
The evening's fast-paced exhibition began with the cutting followed by a dynamic performance by legendary singer, songwriter Sheryl Crow. Then moving into the reining pattern the action continued and was then closed out with the reined cow horse athletes and performances from The Ghost Hounds as well as three-time GRAMMY Award-winning singer Darius Rucker.
The Top 5 placing athletes in each discipline were as follows:
CUTTING:
1 Adan Banuelos (Royal Blue) on All spice for 229 points
2 Lloyd Cox (Regal Red) on Blackish for 224 points
3 Wes Galyean (Imperial Purple) on Third Edge for 221 points
4 Austin Shepard (Burnt Orange) on Kittennish for 220 points
5 Lindy Thorn (Racing Green) on Lil Maddy Rey for 217 points
REINING:
1 Casey Deary (Racing Green) on Down Right Amazing for 231.5 points
2 Andrea Fappani (Imperial Purple) on Trash Talkin Spook for 230.5 points
3 Fernando Salgado (Royal Blue) on Pale Dun Star for 224 points
4 Matt Mills (Burnt Orange) on Guns And Dynamite for 221 points
5 Shawn Flarida (Regal Red) on Alpha Jac Sparrow for 220.5 points
REINED COW HORSE:
1 Sarah Dawson (Royal Blue) on Shine Smarter / Rein Score: 226 / Cow Score: 226.5
2 Justin Wright (Regal Red) on Scooter Kat / Rein Score: 224.5 / Cow Score:225
3 Chris Dawson (Racing Green) on CSR Lay Down Sally / Rein Score: 224.5 / Cow Score:218.5
4 Corey Cushing (Imperial Purple) on Good Time/ Rein Score: 218/ Cow Score: 208.5
5 Lee Deacon (Burnt Orange) on SJR Smooth Lil Oak/ Rein Score: 188/ Cow Score: 218.5
The unprecedented team concept saw five teams of three athletes, partnered with some of the most well-known and respected Quarter Horses in the industry. Each team consisted of a reiner, reined cow horse professional and cutting professional.
The Royal Blue Team, as drafted in early February, of cutter Adan Banuelos, reiner Fernando Salgado and reined cow horse professional Sarah Dawson swept the night in first place.
The team placements within the Top 5 were as follows:
TEAMS:
1 Royal Blue – Adan Banuelos, Fernando Salgado & Sarah Dawson = 905.5
2 Regal Red – Lloyd Cox, Shawn Flarida & Justin Wright = 894
3 Racing Green – Lindy Thorn, Casey Deary & Chris Dawson = 891.5
4 Imperial Purple – Wesley Galyean, Andrea Fappani & Corey Cushing = 878
5 Burnt Orange – Austin Shepherd, Matt Mills & Lee Deacon = 847.5
For more information on The American Performance Horseman or the excitement throughout The American Western Weekend please visit www.americanrodeo.com.
About The American Western Weekend:
The American Western Weekend March 8th -11th, 2023 at Globe Life Field in Arlington, Texas features four nights of action-packed entertainment, world-class talent and western sports that culminates with The American Rodeo. Hailed as The Crown Jewel of Rodeo™, The American Rodeo is an unrivaled celebration of the pioneering spirit of the American West. The national sporting event offers fans a unique choice – to cheer on western sports' finest, champion athletes, or root for the underdog "Contenders" chasing a $1 million bonus – through every rodeo, roping and riding effort. For the first time ever, a new competitive exhibition called The American Performance Horseman brings together the western equine sports disciplines of reining, reined cow horse and cutting for a $1 million prize. All combined with star-studded music, a western festival and more. Acquired by Teton Ridge in 2021, The American Rodeo is an annual western sports and entertainment celebration that matches professional rodeo's top athletes against the world's most aspirational cowboys and cowgirls, who have put up their own money to bet on themselves in this high stake's showdown. For more information on The American Rodeo, please visit americanrodeo.com or @TheAmerican.TR on Instagram @TheAmericanTR on Facebook and Twitter.
About Teton Ridge:
Teton Ridge is a multi-platform, wholly American-owned brand and media company devoted to the iconic American western way of life. Teton Ridge's Sports division was created with the singular focus of elevating classic western sports and America's western culture on the world stage, while broadening audiences around the globe as well as at home. In 2021, Teton Ridge acquired The American, the iconic event of the rodeo circuit, to continue to expand the audiences for rodeo sports and make it the world's premier western culture event. For more information about Teton Ridge, please visit tetonridge.com or @tetonridge on Instagram @tetonridgeusa on Facebook.
---
Press release by Mandi McCary