An NBC News investigation reveals that a federal adoption program launched to help manage the mustang and burro populations on public lands may be being exploited. Across the Western U.S., wild horses that once roamed freely are ending up penned in corrals at facilities self-described as kill pens.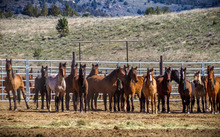 A federal adoption program launched to help manage the mustang and burro populations on public lands may be exploited with wild mustangs being sold to kill pens.
© 2016 by BLM - Oregon New window.
The owners of these businesses typically buy the horses at auctions and then resell them, often to slaughterhouses overseas or to rescuers hoping to save the animals from such a fate.
Wild horses and burros are protected under a 1971 law that established the right for these unbranded animals to live on public land, often referred to as the range. But the Bureau of Land Management says their numbers have surged, and the resulting overpopulation requires interventions that cost taxpayers millions, hurts vegetation and wildlife, and creates challenges for cattle ranchers whose cows share the land.
The same 50-year-old law tasked the agency with caring for the population of wild horses and burros, including maintaining an ecological balance — even if that means removing excess animals. So every year, the BLM sets a target number of wild horses and burros to round up. Last year, it removed over 20,000.
Many of these horses are sent to government-funded corrals and pastures. Since 2019, an incentive program has paid adopters $1,000 to take in the animals and care for them for a year. After that, the ownership title is transferred to these private owners and the horses' fate is left in their hands.
In some cases, the animals are then sold, which can put them on a path to the slaughterhouse.
An NBC News investigation found several horses with federal freeze brands — identifying symbols marked on the horses' necks after they get rounded up — being sold in online advertisements posted by kill pens in Oklahoma and Arkansas. Documents obtained via a federal records request show that the brand numbers on those horses match federal adoption paperwork.
See the complete article by By Mark Scaglione and Erin McLaughlin with many important details HERE .