---
Newsdate: Wednesday, March 22, 2023 - 11:00 am
Location: LEXINGTON, Kentucky
Keeneland, this spring, is launching its Collegiate Opportunities Program, providing students with a diverse curriculum that affords immersive opportunities to learn about Keeneland and the Thoroughbred industry. The program is designed to foster strong, professionally well-rounded candidates and create lifelong fans of Thoroughbred racing.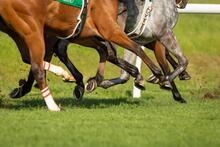 Students will enhance professional skills and learn about Keeneland, horse industry.
© 2022 by Mark Pearson New window.
Opportunities available to students touch a variety of disciplines at Keeneland and enable them to explore career paths in the horse industry. Students may choose to be a College Ambassador or an Intern, both paid positions at Keeneland, based on their level of interest and field of concentration.
"Keeneland is proud of the success of our College Ambassadors and Interns, and coordinating these two programs under the umbrella of a Collegiate Opportunities Program enables us to strengthen the curriculums in exciting new ways," Keeneland President and CEO Shannon Arvin said.
"We hope to introduce the college demographic to everything Keeneland encompasses, and create awareness that many careers in our industry don't require a background or expertise with horses, such as finance, marketing, public relations, operations and technology. Our goal is to attract young people to the horse industry and help them find ways to participate, whether it be as a career or a lifelong fan."
Applications for College Ambassadors and Interns are currently being accepted online at Keeneland.com/college.
"Keeneland and horse racing are part of the culture of Central Kentucky, and we want to share this wonderful sport with future generations," Keeneland Senior Director of Operations and Community Relations Kara Heissenbuttel said. "Toward that goal, we've stepped up outreach efforts via digital and social media and in person while we continue to grow relationships with contacts at local high schools and universities.
Keeneland also has partnered with the Ed Brown Society to create opportunities for young people of color, and we support the Kentucky Sports Industry Conference, a University of Kentucky student-led organization that creates a pipeline for students interested in sports industry jobs. These programs are educating people about the terrific opportunities in racing."
College Ambassador Program Presented by Lane's End provides introduction to Keeneland and horse racing
The College Ambassador Program Presented by Lane's End offers an introduction to Keeneland and the Thoroughbred industry. As part of the curriculum, students provide hands-on support to the Keeneland team during the Spring and Fall race meets and annual horse auctions, assist with Keeneland-related community events and participate in a variety of educational, interactive and career development experiences throughout the year.
College Ambassador classes are small and select, typically accepting 16-18 students annually, to ensure quality one-on-one engagement and interaction.
"Having Lane's End as the presenting sponsor of the College Ambassador Program has allowed us to offer more substantive curriculum," Keeneland Patron Experience Manager Katherine Hutchinson said. "Lane's End, Keeneland and the students who become College Ambassadors feel a tremendous sense of pride in the program, and that's what makes it so successful.
The program provides the opportunity for students to network, make connections with people in racing and see firsthand the care and commitment horsemen and -women give their horses. If we create the desire to work in the equine industry and develop a lifelong fan, we have hit our goal."
"Those of us fortunate enough to participate in the horse industry love to share our passion for the sport with others," said Bill Farish of Lane's End, which also is the presenting sponsor of Keeneland's College Scholarship Day. "The College Ambassador Program at Keeneland will open doors for young people to learn about racing, and hopefully build future generations of fans."
The College Ambassador Program typically begins with a virtual orientation in July and on-site orientation in August. After experiencing Keeneland's September Yearling Sale, Ambassadors shadow various Keeneland departments and assist with racing-related promotions and events during the October race meet. In partnership with Amplify Horse Racing, at the November Breeding Stock Sale, they will participate in behind-the-scenes sessions with consignors to learn about Thoroughbred breeding and auctions. The year closes with reviews and ideas for 2024.
The first months of the new year feature panel discussions and networking with Thoroughbred-related organizations and a visit to Lane's End to see mares and foals. In April, the group continues their race meet responsibilities before closing their academic year with a team dinner.
"My time as an Ambassador was amazing," said Sheyla Resendiz, a graduate of Bluegrass Community & Technical College and a former Keeneland College Ambassador who now works in the yearling division at WinStar Farm. "I loved being one of the many Ambassadors that contributed new ideas to improve this great program; and seeing how the program has evolved has been very rewarding. I loved all the behind-the-scenes events we participated in. The highlight was networking with the co-founders of Amplify Horse Racing; this connection was very helpful and beneficial in my career."
Keeneland Internships available
Keeneland also offers diverse internships during the academic year in areas such as Accounting and Finance, Communications, Horsemen's Hospitality, Library Sciences, Marketing, Patron Experience, Ticketing, Special Events, Catering and Hospitality and Facilities. These immersive opportunities are designed to give students with a specialized focus unique access and mentoring from skilled industry leaders.
"I am extremely grateful to Keeneland and its incredible team for providing me the opportunity to be introduced to and explore the Thoroughbred racing industry by allowing me to assist with thought-provoking projects and meaningful assignments," said Charles Churchill, a University of Kentucky graduate and Track Maintenance Intern who is now Project Manager of Racing Operations for 1/ST Racing and Gaming.
"Whether spending time with some of the brightest minds in the industry, sitting in on stimulating conversations, or embracing the rich history of Thoroughbred racing in Kentucky, I could never seem to get enough. By providing me a space to ask questions and express my overwhelming excitement, Keeneland truly opened my eyes to the promising future of our beloved sport."
Growth of Keeneland's Collegiate Opportunities Program
Keeneland's College Ambassador and Internship programs have matured from their grassroots inception more than a decade ago into structured and substantive curriculum that have launched alumni into exciting careers at Keeneland and in the horse industry.
"At its start, when social media was in its infancy, the College Ambassador Program was akin to guerrilla marketing," recalled Keeneland Vice President and Chief Marketing Officer Christa Marrillia, a former Keeneland intern. "Then, Ambassadors helped raise awareness of Keeneland and horse racing by placing posters around college campuses and networking among their peers. It's been exciting to watch the initiative evolve through the years to become the respected program it is today."
Two current Keeneland employees – Sarah Fink and Lauren Sparrow – credit the College Ambassador and Internship programs as turning points on their career paths.
When Sarah Fink first applied to Keeneland, she envisioned the opportunity to gain more experience in her area of interest: sports entertainment. Instead she found a career. After serving as a College Ambassador, she advanced to an Internship with the Keeneland Marketing team that led to her current position as the track's Director of Patron Experience and Events.
"From the moment I started working here, I was completely enamored," Fink said. "Now I cannot think of myself being anywhere else."
Keeneland Community Outreach Manager Lauren Sparrow became a College Ambassador as a junior at Transylvania University, then interned with the track's Promotions department. Her professional journey has come full circle; Sparrow now calls upon her former experience as an Ambassador and Intern to help shape the future of these programs at Keeneland.
"I had never been to Keeneland until college and I knew very little about the Thoroughbred industry," Sparrow said. "I saw a Keeneland Instagram post about the opportunity to become a College Ambassador. At the time, I had just switched my major to Business Administration with a concentration in Hospitality and thought this could be a good fit. I remember telling myself to just apply for it and even if I didn't like it, it would help me narrow my job search.
"During my first semester as an Ambassador, I took every chance to learn more about Keeneland and the equine industry, and I fell in love with the sport and all that came with it," she said. "After graduating from Transylvania, I was eager to work at Keeneland full time; however, there were no positions available then. I worked for several months as Lead Concierge at Horse Country tours and continued to develop my knowledge of the equine industry. Then a position opened up and here I am today getting to build out the programming for the Ambassador Program. It gives me great joy to showcase the industry I love and to share all it has to offer with other students."
Keeneland College Scholarship Day Presented by Lane's End offers ongoing outreach during race meets
College Scholarship Day Presented by Lane's End is another key outreach and education component of Keeneland's Collegiate Opportunities Program.
Each Spring and Fall Meet, Keeneland welcomes college students to enjoy a day of racing, win scholarships and prizes from local businesses and participate in behind-the-scenes racing experiences.
Registration is currently open for the 2023 Spring Meet at www.keeneland.com/csd.
Students who register for the event have the opportunity to win one of ten $2,000 scholarships provided by Keeneland and the Kentucky Thoroughbred Association. Students who attend Keeneland in person on College Scholarship Day are eligible to win one of two $10,000 scholarships provided by Lane's End Farm.
More than $500,000 in scholarships have been awarded, and more than 30,000 college students have attended College Scholarship Day at Keeneland since its inception in 2002.
Since its first race meet more than 85 years ago, the Keeneland Association has devoted itself to the health and vibrancy of the Thoroughbred industry. The world's largest Thoroughbred auction house, Keeneland conducts five sales a year, in January, April, September and November. Graduates of Keeneland sales dominate racing across the globe at every level.
In April and October, Keeneland offers some of the highest caliber and richest Thoroughbred racing in the world. Keeneland hosted the Breeders' Cup World Championships in 2015, 2020 and 2022. Uniquely structured, Keeneland is a privately held company with a not-for-profit mission that returns its earnings to the industry and the community in the form of higher purses and millions of dollars donated in support of horse industry initiatives and charitable contributions for education, research, and health and human services throughout Central Kentucky. Keeneland also maintains the Keeneland Library, a world-renowned public research institution with the mission of preserving information about the Thoroughbred industry. To learn more, visit Keeneland.com.
---
Press release by Amy Gregory