As another record breaking hurricane barrels down on the United States, the Kentucky Horse Council is again working with equine groups to aid horses in those affected areas. The KHC put out a call to Kentucky farms and facilities willing to take in equine evacuees and the response has been overwhelming.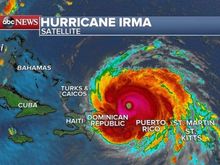 As another record breaking hurricane barrels down on the United States, the Kentucky Horse Council is again working with equine groups to aid horses in those affected areas.
© 2012 by Artist Name
"We are overwhelmed by the willingness of Kentucky residents to open their farms to horses being displaced by Hurricane Irma," said Executive Director Katy Ross. "We have had over forty responses, led by the Kentucky Horse Park, and more coming in every hour. We've heard from everyone from the small owner that has two stalls available to the Horse Park with 200. It is extremely heartwarming."
The current list of available facilities can be found by clicking here: Hurricane Irma Relief. It will continue to be updated regularly.
An additional list of facilities along the East Coast is available here: East Coast Evacuation List
In addition to offering space for evacuees, Kentucky based equine industry groups continue their relief efforts for those affected by Hurricane Harvey and will continue these efforts in the wake of the anticipated destruction of Hurricane Irma. These groups are collecting monetary donations as well as supplies, although monetary donations are preferred at this time due to the difficulty in knowing exactly what will be needed after this latest devastating storm.
Monetary Donations:
Financial donations are preferred because of the difficulty in getting supplies from outside of the region to affected horses. The AAEP Foundation Equine Disaster Relief Fund, National HBPA Foundation, and USEF Equine Disaster Relief Fund are all accepting support that will be distributed among credible programs and organizations helping with recovery and rebuilding efforts. Additionally, please consider giving directly to PATH International, as several of their therapeutic riding facilities sustained extreme flooding damage.
Supply Donations:
A supply drive is also being coordinated in Lexington, Ky., through a partnership of local equine groups. Click here to see a current list of needed supplies requested by first responders. Supply donations will be accepted at the American Association of Equine Practitioners (AAEP) office inside the Kentucky Horse Park:
4033 Iron Works Parkway
Lexington, KY 40511
(859)-233-0147
Donation hours are Monday - Friday from 7:30 a.m. to 5:00 p.m. Call the AAEP office if directions are needed. After hours donations may be arranged by contacting Keith Kleine at kkleine@aaep.org or (859)-327-8750.
For more information about how to help horses and their caretakers, visit the AAEP Foundations Harvey relief page, social media outlets for supporting organizations, and search #HarveyHorseHelp on Twitter.
Supporting Organizations
American Association of Equine Practitioners & Foundation
American Horse Council
American Quarter Horse Association
Breeders' Cup Limited
Brook Ledge Horse Transportation
Creech Horse Transportation
Equine Land Conservation Resource
Equine Medical Associates, PSC
Hagyard Equine Medical Institute & Pharmacy
Horse Country
KBC International
Keeneland Association
Kentucky Equine Humane Center
Kentucky Horse Council
Kentucky Quarter Horse Association & Youth Association
Kentucky Thoroughbred Association
Kentucky Thoroughbred Owners & Breeders
Maker's Mark Secretariat Center
National Horsemen's Benevolent and Protective Association
Our Mims Retirement
Park Equine Hospital
PATH International
Rood and Riddle Equine Hospital & Pharmacy
The Jockey Club
Thoroughbred Charities of America
Thoroughbred Owners and Breeders Association
United States Equestrian Federation
United States Hunter Jumper Association
ABOUT THE KENTUCKY HORSE COUNCIL - The Kentucky Horse Council is a non-profit organization dedicated, through education and leadership, to the protection and development of the Kentucky equine community.
The Kentucky Horse Council provides educational programs and information, outreach and communication to Kentucky horse owners and enthusiasts, equine professional networking opportunities through KENA, trail riding advocacy, health and welfare programs, and personal liability insurance and other membership benefits.
The specialty Kentucky Horse Council license plate, featuring a foal lying in the grass, provides the primary source of revenue for KHC programs.