Newsdate: Tuesday, May 30, 2023 - 11:00 am
Location: ANDERSEN, Indiana
HHYF summer, as usual, has a full schedule of a variety of programs and many locations. With stops in Ohio, Indiana, Kentucky, New York, Maine, and New Jersey – so much education, excitement and increased awareness for harness racing is anticipated.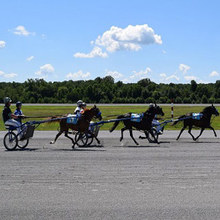 The Harness Horse Youth Foundation Summer Schedule is Now Available.
© 2018 by Harness Horse Youth Foundation New window.
"HHYF summers are an opportunity to learn about driving, both from a racing perspective as well another discipline. The HHYF stable of Trottingbreds serve as kind and patient teachers to young people ages 11 and older," explained HHYF Executive Director Ellen Taylor. "Not only do our events create invigorating energy from new horse-loving participants but the potential to increase awareness for harness racing venues close to our camp locations stimulates even the hardened trainer to take in a breath of fresh air when he/she sees the kids having fun and learning."
Many thanks to those who help make the HHYF programs possible. To date, those who have generously donated include US Trotting Association, IN Standardbred Association, OH Harness Horsemen's Association, Fair Winds Farm, Lindy Farms, Meadows Standardbred Owners Association, Standardbred Owners and Breeders of NJ, VA Equine Alliance, The New Meadowlands/Vernon Downs/Tioga Downs, US Harness Writers Association, Martin Granoff, Brittany Farms, Cameo Hills Farm, Fair Island Farm, Hambletonian Society, Chris McErlean, Pinske Stables, Joe Holloway Stable, Pacesetter Farm, Preferred Equine Marketing, Purple Haze Stables, and Jim and Georgia Simpson.
Please visit https://hhyf.org/summer-programs/ for complete list of all HHYF events including those requiring pre registration. The horses and staff are looking forward to seeing YOU at a HHYF event this summer!
The Harness Horse Youth Foundation is a charitable 501(c)3 organization dedicated to providing young people and their families educational opportunities with harness horses in order to foster the next generation of participants and fans. The Foundation has been making a difference in young people's lives since 1976; its programs include interactive learning experiences with racehorses as well as offering scholarships and creating and distributing educational materials relating to harness racing.
---
Press release by Harness Horse Youth Foundation