Newsdate: Friday, March 24, 2023 - 9:00 am
Location: NEW ORLEANS, Louisiana
For six decades, Lynn Palm has been a mainstay of the horse training, showing, and clinicing industry. Her successes in diversity in training and the development of willingness and ability across disciplines are unparalleled. She has four Superhorse Titles—a prize awarded to a horse that demonstrates a broad skillset and proficiency in multiple sports.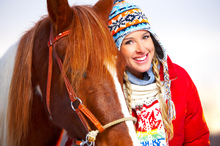 'Finding Your Superhorse' has a rich mix of stories curated from years of horse adventures, with practical ideas you can put to work in your own arena, and exercises to incorporate in your daily practice.
© 2016 by Kurhan New window.
In these pages, Lynn shares the eight keys to her success in training and competing, and how you, too—whether you're eventing or ranch riding—can shape a horse with a good attitude, correct movement, healthy biomechanics, and top-notch conditioning. A "Superhorse" will take you farther for longer, and you'll enjoy every minute of it.
Readers will learn how:
Not all knowledge is good knowledge, and which knowledge is best.
Groundwork in the form of in-hand, longeing, liberty work, long-lining, and trick training is integral to attaining training goals
To incorporate longevity training with progressive lessons that have the "long game" in mind
The rider's ability directly impacts the horse's
A competitive edge serves both the recreational rider and the one who shows
To overcome the inevitable challenges when training a horse and facing questions of persistence versus suitability
We need to do better for the horse in equestrian sport
"Giving back" to the industry provides a foundation for Superhorses for generations to come
With a rich mix of stories curated from years of horse adventures, practical ideas you can put to work in your own arena, and exercises to incorporate in your daily practice, Finding Your Superhorse is the rare inspiring read that teaches. Throughout, Lynn's warmth of character and intense commitment to horses, horse people, and improving the industry that has given her a life and a livelihood shine through, guiding us all toward what's possible and the "super" in every horse.
This paperback book brought to you by Lynn Palm with Rebecca M. Didier and Marie-Frances Davis is scheduled to arrive summer 2023. To join the waitlist visit http://bit.ly/3JY5qsG.
Lynn Palm
Palm's career highlights include 2007 American Quarter Horse Association (AQHA) Horsewoman of the Year, a record four AQHA Superhorse wins, AQHA Female Equestrian of the Year by the Women's Athletic Association, named one of the top United States clinicians by Horse & Rider magazine, over 34 AQHA World and Reserve World Champions, 14 WDAA World and Reserve World Championships and over 50 bridleless dressage exhibitions at events including the National Horse Show, 1989 World Cup and the 1996 Atlanta Olympic Games, and World Cup.
Palm is an AQHA All Around and Versatility Ranch Judge as well as USEF R Western Dressage Judge. She is currently judging and teaching at her Winning Ways with Western Dressage events and clinics throughout the country and abroad. Palm is the author of The Rider's Guide to Real Collection and Your Complete Guide to Western Dressage.
Trafalgar Square Books
Trafalgar Square Books, and its online bookstore HorseandRiderBooks.com, is a small business based on a farm in rural Vermont. We published our first horse book, Centered Riding by Sally Swift, in 1985, and since then have continued to strive to produce high-quality equestrian books and videos "for the good of the horse."
---
Press release by Palm Equestrian Academy