Join us weekly for an informal lunch chat. This week's chat will focus on Getting the Most out of Your Horse Pasture. Tom Guthrie, Michigan State University's State Equine Educator, will help answer your questions on pasture management. Join us by either: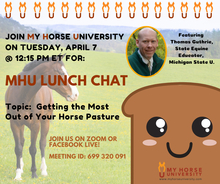 Join My Horse University for a lunchtime chat topic 'Getting the Most Out of Your Horse Pasture' and for other courses related to horses.
© 2020 by My Horse University
In addition everyone is invited to join us for our next webinar! DATE: April 15, 2020 at Noon
TITLE: Conditioning The Equine Athlete for a Healthy and Successful Riding Season.
DESCRIPTION: This presentation will discuss how to plan an equine conditioning program that is safe and effective in developing a fit and happy horse for a successful riding season. Different exercise protocols will be discussed for both riding and ground work. Participants will learn how to use training journals to monitor a horse's progress as well as how to evaluate a horse's body condition score to keep them healthy throughout the year.
This webinar is being offered by Dr. Christine Skelly, Associate Professor and Extension Specialist, from Michigan State University.
FREE Courses
Experience the richness of content and flexibility of participation of our online, self-paced courses. Enroll in one of our FREE courses today! Topics include:
Biosecurity
Purchasing a Horse
Youth Safety
Trail Riding 101
These courses are great for adults and youth alike!
Course Discounts
Take advantage of our BIG discount on the following Essential Courses now offered for $75 (usually $200) through the end of May 2020!
Horse Nutrition
Horse Selection
Horse Behavior
Each of these courses is self-paced and includes approximately 8-10 hours of content.
---
Press release provided by My Horse University