The cardiovascular risk of using estrogen therapy to reduce women's menopause symptoms has been hotly debated. A new research study may please horse advocates who have questioned the use of mares to produce the needed urine necessary for making the drug, Premarin.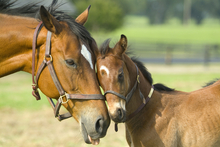 A new research study may please horse advocates who have questioned the use of mares to produce the urine necessary for making the drug Premarin.
Now a new study that links conjugated equine estrogen hormone therapy, estrogen derived from the urine of pregnant horses, to a woman's risk of developing heart disease has been reported in the Journal of the American Medical Association.
In the study, the risk of taking conjugated equine estrogens was compared to the risks of a second type of hormone therapy, estradiol.
The objective of the research was to compare the relative clinical cardiovascular safety of 2 commonly used oral estrogen drugs—conjugated equine estrogens (CEEs) and estradiol.
The population-based, case-control study compared cardiovascular event risk associated with current CEEs and estradiol use in a large health maintenance organization in which the preferred formulary estrogen changed from CEEs to estradiol during the course of the data collection. Participants were 384 postmenopausal women ages 30 to 79 years using oral hormone therapy.
According to the research, the incident of venous thrombosis was the primary clinical outcome, and incident of myocardial infarction and ischemic stroke were secondary outcomes. As validation, an intermediate clotting phenotype, the endogenous thrombin potential–based normalized activated protein C sensitivity ratio, was measured in plasma of controls.
Nicholas L Smith, PhD, an epidemiologist from the University of Washington School of Public Health, and other researchers studied the heart health of the 384 women.
The investigators found a total of 68 cases of women with deep vein thrombosis blood clots, and 67 cases of heart attacks, along with another 48 cases of stroke. The estrogen medications the women had taken were studied to uncover any links to heart disease risk.
Women who used the estrogens that came from horse urine — also know as Premarin were twice as likely to have venous thrombosis. The women taking conjugated equine estrogen were also slightly more likely to have heart attacks, but risk of stroke did not vary based on which medication was taken.
Based on the study, the following conclusions and relevance were reported: "In an observational study of oral hormone therapy users, CEEs use was associated with a higher risk of incident venous thrombosis and possibly myocardial infarction than estradiol use. This risk differential was supported by biologic data. These findings need replication and suggest that various oral estrogen drugs may be associated with different levels of cardiovascular risk."
This study supports earlier research that showed substantially increased risk of endometrial cancer. Since 1976 the drug has carried a label warning about that risk.
As part of the Women's Health Initiative sponsored by the National Institutes of Health, a large-scale clinical trial for Hormone Replacement Therapy showed that long-term use of progestin and estrogen may increase the risk of strokes, heart attacks, blood clots, and breast cancer.
Premarin is the subject of some contention. Animal welfare groups and those opposing the industry claim that animal husbandry and urine collection methods used in Premarin's production cause undue stress and suffering to the mares involved. Allegations of abuse range from concern over stall size, access to water, exercise, cruel treatment, collection system and continuous breeding cycles, resulting in premature death for thousands of mares and foals. Some claim the numbers are more accurately in the millions