Winter weather often takes a serious toll on horse owners across North America. Barn and stable fires have been a serious cause of injury and death to hundreds of horses while costing hundreds of thousands in property damage and losses in past years.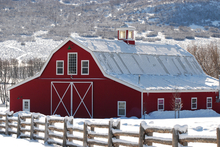 Each year, winter barn and stable fires cause injury, death, property damage and untold misery to horses and horse owners across the country.

The Equine Risk Management Group (ERMG), a safety-risk management education organization located in Lexington, Kentucky, has created a valuable educational checklist and information resource for barn and farm managers to aid in the prevention of barn and stable fires.
The free Barn Fire Safety Fact Sheet is a 9 page pdf document that can be easily downloaded from the ERMG website by going to the heading Check-Lists - Disasters - Fire Danger.
Nothing is worse than the unsuspecting killer that lurks in every horse barn and stable during the winter: the space heater, heat tape, portable hot water heater, and faulty electrical box.
Based on a study conducted by the National Fire Prevention Association, defective or improperly used heating equipment is the number one cause of barn and stable fires. The same report indicated that 46% of barn and stable fires occur between the hours of 7pm and 7am, during the night and outside of the watchful eye of stable management.
When this data is linked to the fact more barn and stable fires occur during the months of January, February and March, it speaks volumes about the extra care horsemen need to use during the winter months.
The Equine Risk Management Group suggests a pro-active program of fire prevention including weekly self-inspections of all electrical equipment used in the barn. And yes, don't forget to have a fire escape - emergency evacuation plan. Such plans make a difference if all staff and personnel know what to do in case of an emergency. Barn fires can happen to all barns and stables when it is least expected. So, the solution is very simple, be prepared.
About Equine Risk Management Group
Equine Risk Management Group LLC was founded by professional horsemen, Wayne G. Hipsley, BSc, MSc, and Joe Carr, BSc, AFIS, for the purpose of providing the horse industry an excellent resource for safety-risk management in all phases of equestrian activities.
Based in the horse capital of the world, these professional horsemen have years of experience and knowledge in the agricultural – horse insurance industry, equestrian accident investigation and prevention, and practical experience in horse farm management and operations.