Police in Kentucky are hunting whoever is responsible for killing 20 horses in an "inhumane and cruel" act that created a "battlefield for horses". The Dumas Rescue group said some of the horses were pregnant mares, others foals including a one-year-old. It is offering a $20,000 reward.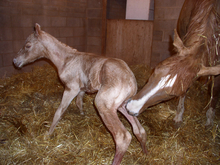 Of the 20 horses found dead in Kentucky, two were pregnant and five belonged to nearby residents.
© 2017 by Alexia Khruscheva New window.
The fatally shot horses were found along U.S. 23 near the border between Pike and Floyd counties in eastern Kentucky. Of the 20 horses found dead, two were pregnant and five belonged to nearby residents. The others are believed to have been wild horses that frequented the abandoned strip mine
The herd of about 35 horses roams over a wide area of eastern Kentucky, making the search for survivors difficult. The horses had been shot with a low-calibre weapon, police said.
The bodies have been found spread out across the site, an open-cast mining area, and Dumas Rescue is covering about 4,000 acres (1,620 hectares) a day. Killings were first reported on 16 December, with the latest six dead animals found on Sunday. The culprit could face animal cruelty charges at a minimum, according to Floyd County Sheriff John Hunt.
Animal rescue workers have saved a pregnant mare and her colt from an abandoned strip mine site in eastern Kentucky where 20 horses were recently found fatally shot over a period of six days. The two rescued horses have been taken to a local equine humane society.
Latest report is that two horses, a mare and her colt, were rescued Friday night by Dumas Rescue and law enforcement. Lori Redmon, the humane society's president and CEO, has reported that the colt is doing fine but the mare is thin and stressed.
The Kentucky Humane Society has taken in two horses from the herd where 20 horses were found fatally shot near a strip mine site in eastern Kentucky earlier this month.
Officials said the pregnant mare and her yearling colt are recovering at Willow Hope Farm in Simpsonville. The mare is very thin and has been placed on a special feeding program.
---
Press release by Kentucky Humane Society