With wild fires burning in many states, horse owners who live in fire-prone areas should be prepared to evacuate and care for their horses prior to potential wild fires in their areas.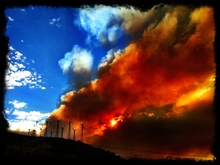 A wild fire evacuation plan that can be quickly implemented is a major factor in saving not only the monetary loss of your horse(s) but also the emotional loss.
© 2011 by Wonderlane
Advance preparation may make the difference between life and death for horses caught in the path of a fire. John Madigan, a UC Davis authority on equine and emergency veterinary medicine, urges horse owners to first clear brush at least 30 feet from barns and corrals.
Trucks and trailers should be kept nearby and operational in case animals need to be evacuated, and an alternate exit by foot planned in case roads are blocked by fire. Stalls and doors should be closed after evacuation to prevent fire-panicked horses from running back inside.
A community-based emergency evacuation plan for horses is essential. Horse owner groups should work with animal control and local fire departments to develop a plan and a list of horse hauling resources and sites to take horses to safety rapidly.
A practice drill should be done early in the fire season. A veterinarian should examine any horse burned or exposed to heavy smoke, and owners should not apply any topical treatments to burns.
Horse owners should keep the following facts in mind:
The safety of you and your family should be the first priority.
The greatest factor in limiting your losses during a wildfire is having and using a preparedness plan.
An equine first aid kit is essential for all horse owners to have in the barn or trailer in case of emergencies.
Prioritize a list of tack to take during an evacuation.
If you get word that your area is being evacuated start the process immediately.
Having a plan and implementing that plan is the greatest factor in limiting your losses. With horses, we are not only speaking of a monetary loss but also the emotional loss of losing your horse which is impossible to calculate in dollars and cents. Your plan needs to be communicated to everyone who is living with you or to anyone who will be taking care of your place in your absence.
Emergency horse evacuation checklist:
horse(s)
paperwork (health certificates, vaccination records, brand paperwork)
first aid kit
horse medication(s), if applicable
ropes
leather halter(s)
water bucket
identity halter/tag
boarding arrangement list
contact list
priority list
Develop your emergency plan in case of a wild fire or other emergency and work with your community to develop rapid responses to the many disasters that threaten not only horse owners, but your community as a whole.
Knowledge and planning are power!