Newsdate: Monday, August 12, 2019, 11:00 am
Location: RED BANK, New Jersey
Jamie Baldanza, a wild mustang advocate, photographer, and filmmaker, teamed up with Clare Staples of Skydog Sanctuary to create a short film to raise awareness for the Safeguard American Food Exports (SAFE) Act.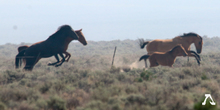 Skydog Sanctuary is committed to passing The SAFE Act with their goal to raise awareness of the horse slaughter trade and inspire more people to oppose it.
© 2018 by AWHC
The Safeguard American Food Exports or SAFE Act permanently bans both horse slaughter in the U.S. and the exportation of horses for slaughter abroad. The bill was introduced on February 4, 2019 as H.R.961 by Reps. Jan Schakowsky (D-IL) and Vern Buchanan (R-FL). On March 1, 2019, the bill was referred to the Subcommittee on Livestock and Foreign Agriculture by the Committee on Agriculture.
"Pass The Safe Act: The Story of Louisa, Star, and Baby Skye" takes you on a whirlwind kill pen rescue mission spanning three states. Louisa, an ordinary, brown, malnourished mustang and Star, a pregnant palomino mare, were bound for slaughter on Christmas Eve. Skydog Sanctuary rescued the two mares, vowing to protect the horses left behind by spreading their story.
"Jamie and I decided to make a film as a way to stand up for these horses. As I drove away from Texas, I remember thinking that these horses don't have a voice - but I do. We do. You do. And we need to use our voices to stop this brutal trade, where horses suffer at every stage of the slaughter pipeline," says Clare.
Celebrities have voiced their support for The SAFE Act through the short film on social media, including Josh Groban, Nikki Reed, Kaley Cuoco, Beth Behrs, Robert F Kennedy JR, Georgina Bloomberg, Gerard Butler, Julianne Hough, among others.
To watch the film, visit: https://www.youtube.com/watch?v=rixA3v6iahY
Skydog Sanctuary is committed to passing The SAFE Act within the next two years. Their goal is to raise awareness for horse slaughter trade and inspire more people to act. But they cannot do it alone! To learn how you can help, visit https://www.skydogranch.org/oppose-slaughter
About Jamie Baldanza
Jamie Baldanza is a professional equine photographer and filmmaker dedicated to preserving America's wild horses. Jamie's production company "This Mustang Life" concentrates on bringing animal causes to the public through film. Jamie's latest project, the docu-series "Wild Lands. Wild Horses" will help bring awareness to the wild horse cause.
To learn more about Jamie's work, or to collaborate on an animal cause project, visit http://www.thismustanglife.com or follow her on instagram at @thismustanglife.
About Skydog Sanctuary
Skydog Ranch is a permanent home for wild mustangs and burros who have ended up in horrible and dangerous situations - at kill pens, auctions, and homes where they have been abused or starved. The horses at Skydog often enter dire circumstances following relocation from their native habitat by the U.S. Bureau of Land Management.
Skydog aims to create respectful and loving environment for these vulnerable and mistreated animals.
Skydog Sanctuary has locations in Malibu and Mariposa, California, plus a 9,000 acre ranch near Bend, Oregon.
---
Press release provided by Jamie Baldanza, This Mustang Life