During the fall, many horse owners move indoors to ride and continue training. This time of year usually means less turnout, more stall confinement, tighter indoor arenas, changes in hay quality and colder temperatures. For many of our clients, it's been a heavy show season and they're at peak condition. Subsequently, they're also at peak levels of soreness.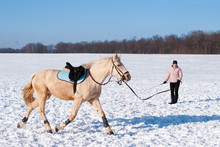 Preventive horse joint health encompasses nutrition, weight management, exercise, supplements, proper shoeing and everyday horsemanship skills.
© 2017 by alexapro New window.
This is a great time of year to reevaluate joint health and develop a strategy to maintain optimal body condition through the winter.
Regardless of the degree of lameness, joint wear and tear is part of every horse's life. Protecting the joint structures starts early in life, and caring for them needs to change accordingly as the horse grows, trains and matures.
Be sure to talk about proactive joint health with your clients:
Regardless of their horse's level of activity, joint health should be prioritized and evaluated on a routine basis
Preventive joint health encompasses nutrition, weight management, exercise, supplements, proper shoeing and everyday horsemanship skills
Have clients watch for signs of change in performance, stiffness, shortness of stride, change of gait and joint swelling
For horses with osteoarthritis (OA), focus on treating inflammation and slowing the progression of the disease
Nutrition fuels horse joints
Nutrition is one of the most important aspects of fueling healthy joints, and it should be focused on even before birth. As a horse ages and his workload changes, diet should change simultaneously. Here are some guidelines to help you navigate the matrix of equine nutrition regarding joint health:
For decades, we've referred to the National Research Council's Nutrient Requirements of Horses with sections focused on the equine athlete. An updated version from 2007 can be purchased at this link.Opens in a new window1
Horses do best with a forage first diet, limiting grains when possible
The goal is to provide adequate energy, optimal protein levels and balanced minerals, particularly calcium and phosphorus
The high levels of omega-3 fatty acids and Vitamin E in green grass degrade quickly when hay is cut. A balanced supplement containing these ingredients with trace minerals, amino acids, antioxidants can restore these lost nutrients to the diet.
Broodmares and young, growing horses require a heightened level of diet awareness. During the last months of gestation, a broodmare has the caloric needs of a horse in heavy training and requires balanced nutrition to ensure normal fetal development.
Stacking excessive supplements with commercial grains can cause an imbalance in vitamins and minerals. Research is key when choosing supplements.
Maintain a healthy weight to lessen stress on horses' joints and to avoid metabolic issues
f hay quality suffers in the winter months, supplement accordingly with options such as alfalfa/hay cubes, beet pulp or ration balancers
For more information, read Feeding Fenzy: An Equine Nutritional Revolution.Opens in a new window
Living well with OA
Wayne Gretzky, arguably the best hockey player ever, who suffered from OA, famously said, "You miss 100% of the shots you don't take." As equine vets, we could reframe this quote to say, "You miss 100% of the joint prevention discussions you don't have." Athletes at the top of their game like Joe Namath, Hank Aaron and Nancy Lopez, to name a few, also managed their careers with OA. They have resources and medical communities to support them along the way. Our athletes—our horses—need our medical support too.
Approximately 60% of equine lameness cases are related to OA, which is often associated with a loss of performance and early retirement from athletic careers.2 Primary OA is due to chronic repetitive trauma, with risk factors including breed, age, sex, conformation, occupation and systemic predispositions of the bone and cartilage.2 Joint pain involves more than just the articular cartilage. It also includes the subchondral bone, synovium, joint capsule, tendons and ligaments surrounding the joint.
When we take a moment to think about the long-lived careers of show horses or a 30-year-old pony still teaching lessons down the road, you can't help but appreciate the wear and tear those joints have had over the years. Sir Isaac Newton was right when he said, "A body in motion stays in motion," a statement proven by award-winning human and equine athletes all around the world.
---
Press release by Zoetis