Is your young horse showing signs of lameness or lack of coordination while walking and running? If so, he may have either a developmental or degenerative condition which calls for a visit with your veterinarian.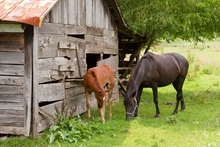 The causes of lameness in young horses can usually be divided into developmental and degenerative conditions.
© 2017 by bddigitalimage New window
Developmental causes of lameness are largely Osteochondrosis (OCD) and Cystic lesions, which develop during the early stages of a horse's life. Osteochondrosis is a condition where the normal development of bone and cartilage does not occur and loose flaps of this tissue forms at the front or "gliding" aspect of the joint.
These conditions tend to occur at predetermined sites in the joint and at certain ages. For instance, most OCD lesions of the fetlock are formed by 5 months of age, whereas most OCD lesions of the stifle do not become evident until at least 6 months of age and can actually heal up to 12 months of age.
Osteochondrosis is a common condition in horses with an incidence of about 5 % in the hock. Thankfully it is a condition that can be readily treated with a good prognosis for soundness in most horses.
The common presenting sign for OCD include swelling of the affect joint and mild-moderate lameness. Treatment usually involves arthroscopic removal of the flaps of cartilage and bone with the size and location of the flaps determining the prognosis.
With the introduction of repository radiographs most horses that are offered for sale have had the OCD lesions that can be seen on these images removed, and the likelihood of this condition causing a problem after a yearling has been purchased is now less likely. Although a veterinarian viewing repository radiographs at sale may advise you that a horse has had surgery for OCD and they will inform you of the prognosis.
Cystic lesions form in a similar way to OCD but they occur at different locations in the joint. They occur at the weight bearing surface of the joint and for this reason the prognosis for soundness is not as good.
There are common sites for cystic lesions, with the fetlock and stifle being the most common. Horses with cystic lesions usually present with moderate lameness and treatment is not as easy as removal of these lesions.
In recent times we have been debriding these lesions and then packing them with concentrated bone marrow, which contains large number of stems cells, a bone replacement and a glue to hold all this material together. The interim results for this technique are very promising.
---
Edited press release by Scone Equine Hospital