Inundation with the barrage of suggestions for feeding the metabolically challenged horse often yields more questions than answers. Confusion is best addressed by more education and taking a scientific approach is the only route to find your way out of the mayhem.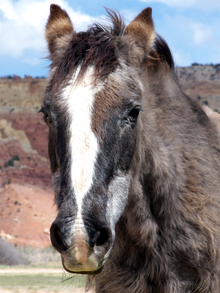 Inundation with the barrage of suggestions for feeding the metabolically challenged horse often yields more questions than answers.
© 2017 by John S. Sfondilias
When you discover that your horse suffers from ailments such as Cushing's disease, polysaccharide storage myopathy (PSSM), PPID, tying up, stomach ulcers and gastrointestinal issues, insulin resistance, laminitis or muscle and colic problems, horse rations and general daily management of the horse can become problematic.
For the healthiest outcome of the horse it is prudent to address these issues holistically and not just treat the symptoms.
For best equine gut health a high fiber, a low sugar and low starch grain that provides adequate amounts of fat for energy and fiber such as alfalfa stems that encourages saliva production to reduce stomach acidity, can be key to keep these common equine ailments under control.
Let's delve a bit deeper. Most feeds that are designed with very low starch/sugar levels, negate to add any type of forage to their feed. One of the only feeds currently on the market that recognizes the importance of the presence of forage in a balanced feed ration for metabolically challenged horses is Cavalor North America, a leader in equine nutrition.
The inclusion of alfalfa stems in their specially formulated Fiberforce product translates to much chewing satisfaction on the part of the equine recipient, as the long stems of alfalfa not only produce a lighter feed that encourages the horse to chew and means the horse can be fed less quantity of feed ration, but also benefits the horse's entire gastrointestinal system with the increased production of saliva as a result.
Think of alfalfa as nature's natural equine antacid. The combination of alfalfa and flax fibers in the feed not only helps protect the lining of the horse's gut from ulcers and inflammation, but also stimulates the horse's large intestine to produce Vitamin B, that improves the health of the horse's hindgut.
Why is the health of the hindgut so important? The horse's hindgut can be a reservoir of pathogenic bacteria if the pH levels drop to acidic levels. Cavalor's Fiberforce also includes yeast plus, which adds active live yeast cultures that stimulate good bacteria in the hindgut to consume the lactic acid that would otherwise cause acidification.
Good bacteria are further encouraged with the inclusion of Florastimul, a prebiotic supplement that increases the presence of good bacteria, and makes the horse less susceptible to gastrointestinal upsets and disease.
The low levels of sugar and starch in Fiberforce help to avoid the quick absorption of sugars in the small intestine, and prevent rapid spikes in blood sugar that are known to aggravate existing metabolic disorders.
This Cavalor feed is the lowest NSC (non-structural carbohydrate) feed on the market and the low index helps horses lose weight, which is helpful in controlling metabolic disorders. For horses with PSSM (sensitivity to glucose), a low NSC diets results in lower glycogen formation.
Cavalor Fiberforce uses only the highest quality ingredients, with a carefully balanced formulation of fat and amino acids in addition to the components above, to ensure that the gut, immune system and anti-oxidant capacity of the horse is properly supported.
The Cavalor® line of horse feeds offers a full range of special care rations. In addition to Fiberforce, special care feeds include Pianissimo for hot horses, Mash & Mix for stressed horses, Whole Gain and Strucomix Original and Senior that also offer low NSC levels. Baffled by the variety of choices? Y
ou don't need to be – for every type of metabolic ailment or disease, Cavalor provides scientifically backed knowledge in how nutrition is best modified for the individual horse through correct formulation of the feed ration.
When you put your trust in the Cavalor® brand rest assured that their research has led to demonstrated effectiveness across their line of feed and supplements, and all products are guaranteed 100% doping-free.
For more information on the full range of products, that include feed and supplements for sport horses, horses requiring special care, breeding stock, recreational horses and horses on rest that are available from Cavalor® please visit http://www.cavalor.com/us-en
This article is brought to you courtesy of Cavalor North America, Dalton, GA– Kindly visit their website at http://www.cavalor.us to learn more. Dealer inquiries are welcomed.
About Cavalor® North America, Dalton, GA: Cavalor is a global brand that can justifiably be called the world leader in equine nutrition for high-performance horses. Cavalor® products are available in more than 50 countries worldwide and are used by champion riders. Cavalor® offers a complete line of horse feed, supplements and care products.
The company's values are: Innovation - Quality - Results. They dedicate themselves to inventing, manufacturing and distributing the best quality and most effective equine nutrition products in the world for the health, performance and happiness of all horses, from a foal's first steps to retirement.
Please visit http://www.cavalor.us to learn more about their top quality line of products used by advanced riders for their high performance horses, 'when the result counts.'
About Nikki Alvin-Smith: Internationally published freelance writer in such world renowned publications such as The Chronicle of the Horse, Horse and Hound, Dressage and CT, Warmbloods Today, The Horseman's Yankee Pedlar, Reiter, The Equine Journal, Spur, Hoofprints, Horsin' Around, Horses All, Field & Stream, Western Horse and Gun, Pony Quarterly, Horses All Canada, Catskill Horse to name a few. Ghostwriting, blog services, PR/Marketing copy either direct with manufacturer or for agencies, copy editing and editor services also available. Nikki also produces catalog copy, white papers, e-books, corporate brochures and advertising copy for international corporations and PR/Marketing for celebrities.
As a Brit who has called the America home for the past 34 years, Nikki brings a unique perspective to the equestrian world. Nikki is also an accomplished Grand Prix dressage trainer/competitor, competing at international Grand Prix level to scores over 72% and is a highly sought clinician offering clinics worldwide. She has been a horse breeder/importer of warmblood and Baroque breeds for more than 25 years. Together with her husband Paul who is also a Grand Prix trainer, they run a private dressage breeding operation and training yard in the beautiful Catskill Mountains of New York.
Please visit https://nikkialvinsmithstudio.com/ to learn more about her affordable services.