Newsdate: Friday, May 12, 2023 - 11:00 am
Location: LEXINGTON, Kentucky
The following report was composed with information provided by the University of Kentucky Veterinary Diagnostic Laboratory and Equine Diagnostic Solutions, Inc.(EDS)—both in Lexington, Kentucky, United States of America (USA); IDEXX Laboratories, Germany; the International Thoroughbred Breeders Federation; the International Collating Centre (ICC) in Newmarket, United Kingdom (UK); and by the American Association of Equine Practitioners' Equine Disease Communication Center (EDCC.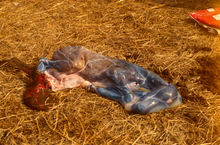 First Quarter Report on Equine Infectious Diseases provides an indication of heightened activity of relevant contagious or environment-linked diseases among equids.
© 2020 by eXtension Horses New window.
This report is retrospective and does not claim to be complete. However, it provides an indication of heightened activity of relevant contagious or environment-linked diseases among equids. To further improve this data, it is encouraged to report laboratory-confirmed infectious diseases and toxicoinfections of Equidae to the ICC in Newmarket, UK.
Reporting of equine diseases from the Southern Hemisphere and from most parts of Asia was scarce.
A case of glanders (caused by Burkholderia mallei) was reported from eastern-central Russia near the Mongolian border. Uruguay reported a single case of equine infectious anemia (EIA) virus infection. North America and Europe, including the British Isles, consistently reported cases and outbreaks of strangles (caused by Streptococcus equi spp. equi).
The numbers reported by EDCC and ICC corroborate the laboratory data from EDS and IDEXX, and detection of the pathogen in nasal swabs/pharyngeal or guttural pouch washes is widespread. However, it is difficult to interpret disease incidence from laboratory results, because some samples likely represent follow-up samples derived from an ongoing outbreak.
Equine influenza virus is currently circulating in Europe, including the British Isles (ICC report). EDS reported that approximately 10% of nasal swabs submitted for equine influenza virus testing were positive; swabs were submitted from most regions of the USA.
Equine herpes virus (EHV)-4 or -1 respiratory disease was infrequently reported in the USA and more so from operations in the UK, Ireland and continental Europe.
Few EHV abortions were reported from North America, and three EHV-1 abortions were reported from central Kentucky, USA. Noteworthy, there was not further propagation of virus within pregnant mares on those farms. We believe this is due to high vaccination rates combined with fast and effective management interventions.
EHV-1 abortions typically occur in the last trimester of pregnancy. Therefore,it is not unusual that reported abortions have increased significantly for continental Europe andthe British Isles compared to our previous (Q4) report.
Equidherpes virus-associated myeloencephalopathy (EHM) also follows a seasonal pattern with the majority of outbreaks associated with the cooler times of the year (first, second and fourth quarters for the Northern Hemisphere). Close to 20 outbreaks with variable EHM prevalence were reported in North America, and about 15 outbreaks were reported in Europe, including the UK.
Spain reported an EHM outbreak at an equestrian event that was similar in organization and setup compared to the Valencia-outbreak of 2021. Heightened awareness of early stages of infection, a rapid response with testing of animals, and biosecurity management has shown to mitigate outbreaks effectively.
A seasonal increase in EHV-1 detection from nasal swabs was reported in the quarterly results of a commercial laboratory located in the Northern Hemisphere . Note, the 3rd quarter (July – September) of 2021 and 2022 consistently reported the lowest positivity rate for EHV-1 compared to the other quarters. Few cases of EIA were reported in N. America. A cluster of connected cases in the Southern USA was reported in connection with illegal horse racing activities ('bush' racing), where a form of blood doping is not uncommon.
Single EIA cases were also reported from Hungary and Italy.
Insect vectors are active year-round in regions bordering the Gulf of Mexico. Single cases of Eastern equine encephalitis were reported in Florida and South Carolina, as well as a West Nile virus (WNV) case from Florida. Another WNV encephalitis case was identified in Libya, Northern Africa.
Equine rotavirus was identified in 49 samples in the USA. Most samples were positive for rotavirus type B, and with few exceptions (Oklahoma, New York), most samples were derived from central Kentucky.
Miscellaneous: Contagious equine metritis: Three cases of Taylorella equigenitalis infection were reported from Germany. It is currently unknown whether these cases were epidemiologically connected.
---
Article by Lutz Goehring, University of Kentucky Gluck Equine Research Center – Department of Veterinary Science - Press release by Equine Disease Quarterly