Mud and horses do not mix. Not only does mud encourage bacterial and fungal infections, like thrush, but the poor footing can also put stress on joints, muscles, ligaments and tendons.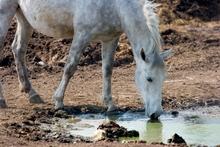 Not only does mud encourage bacterial and fungal infections, like thrush, but the poor footing can also put stress on joints, muscles, ligaments and tendons.
© 2016 by Peter Gudella New window.
Horses can slip in mud and freezing mud can bruise hooves. But what can you do to dry mud in your horse pastures and prevent paddocks from turning sloppy?
Before you pour on the sand and gravel, take some advice from Les Smith, a professor of landscape architecture at Ball State University who specializes in equine facility planning.
Keeping Horse Paddocks Dry
When possible, Les designs horse facilities around the land's natural drainage pattern. Paddocks, gates and alleys especially need good drainage so that every rain doesn't create a pig sty.
If your existing facility has poor drainage in the heavy traffic areas, improve the drainage before you begin pouring sand and gravel into the bog.
Horse Paddock Drainage
For puddle-size areas: Dig a trench leading downhill, away from the damp area, then back-fill the trench with gravel. Seasonal stream crossings might require corrugated steel drains covered in crushed gravel and topped with dirt.
For large areas: such as a boggy low spot in front of a loafing shed, this might require more drastic measures. In some cases, you might elect to contour the land, using earth moving equipment to build up low-lying areas with sand, soil and rock. Elaborate drainage systems: such as buried "traps" of crushed rock (called French drains), might be needed.
What kind of gravel is good for horse paddocks?
After you address the drainage problems, Les recommends putting crushed gravel in the most heavily used areas, such as around gates, water troughs and narrow alleys.
"Add a crushed stone of a fine consistency – it's often called 'quarter down' because it is ¼-inch in diameter down to dust-sized. After some years of adding this stone, you'll end up with a crushed stone path – a sacrifice area, because the ground will probably never recover with vegetation," he notes.
Paddocks are preferable to stall runs, but if you already have stall runs, rain gutters along the edge of the barn keep water from cascading into the runs like a waterfall.
Surface Materials for Encouraging Drainage
When it comes to surface materials, Les cautions against the common wisdom that "free materials are always best." If you use organic materials for surfacing, make certain the areas are well drained. Remove all the organic matter every few months and replace it with fresh material.
Sand, another common surfacing material, can dry hooves excessively. If the depth of the sand exceeds a few inches, it can cause ligament strain. Instead, commercial arena-footing materials, such as shredded rubber, can be added to a sandy base to create a well-draining, soft, yet, springy footing that provides greater support for your horses' legs.
Professional boarding facilities often use rubber mats in outside runs as well as stalls. Water runs off of them, and they are durable and easy to clean and sanitize.
Les cautions against putting mats over concrete. "It's difficult to be sure that your horse's legs aren't getting stresses because there is only so much you can do to pad concrete," he says. "I would suggest their use only if there is full-range turnout available during much of the day."
When using rubber mats in stalls and runs, be sure to maintain 6 inches of fresh bedding to relieve joint and muscle stress.
Collecting Runoff Water
Collecting runoff water on your horse farm offers a multitude of benefits. See these easy ways to manage runoff.
---
Press release provided by AQHQ