Cavallo Q&A: Help for White Line Disease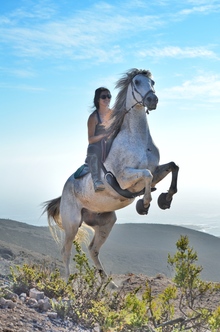 It is possible that white line disease begins when an invasive fungus enters the area through the horse's sole and It's also possible that bacteria enters as a result of hoof wall injury.
© 2018 by Cavallo New window.
Q: Carole, when I picked my horse's hooves today, I noticed a change in his hoof. Looking from underneath, I see some changes to his toe area—the line looks thicker near his hoof wall. I'm worried—could this be White Line Disease? If it is, what can I do to help and to keep him comfortable?
Cavallo President Carole Herder shares her thoughts….
A: White Line Disease is a common hoof problem. The White Line is the hoof material between the sole and the hoof wall. It can be more clearly seen after a fresh trim. This part of the hoof anatomy can be prone to problems. It is possible that White Line Disease begins when an invasive fungus enters the area through the sole. It's also possible that bacteria enters as a result of injury and damage to the hoof wall. White Line Disease could also be a result of chronic laminitis or a metabolic disturbance involving aging.
If you're worried about White Line Disease, investigate your horse's hooves by cleaning and examining the hooves frequently. Look for signs of trauma, sores, disturbances, or openings in the hoof wall and sole. If something looks questionable, treat it.
Start with natural remedies that are non-toxic and which have no adverse side effects. Apple cider vinegar, iodine, and tea tree oil can be helpful. White Line Disease is an anaerobic condition, thriving in the absence of oxygen. When applying a treatment, you should make sure the area also receives clean air exposure.
After you have treated the symptom, look for the original cause. Your trimmer should balance the hoof from front to back and from side to side. Your horse needs to move to heal well. Movement is imperative. The nutrients and oxygen in freely flowing blood can help heal problems and prevent further damage.
Proper circulation helps to encourage the hoof strength and elasticity required to support your horse from the ground up. Keep your horse comfortable and keep him moving. If your horse does not respond quickly, call your veterinarian for help.
We recently heard from a Cavallo Hoof Boot user who helped her horse overcome White Line Disease (also known as Seedy Toe) with the help of her farrier. Here's how wearing hoof boots helped her horse while his hooves healed. I hope her experience might help you if the situation continues.
Ann Green wrote to us to report:
"Just thought I'd share about a rescue horse who had the worst case of White Line Disease that two veterinarians had ever seen. They said it would not be a bad idea to have this horse euthanized, due to the severity of his front hooves. We brought Pilot home as a rescue. Pilot had such bad hooves that he was having trouble standing on his front legs.
We immediately called our farrier who came to the rescue. We padded his hooves as best we could until his Cavallo Boots arrived. He was in such pain on his right hoof that we couldn't even lift his left front hoof off the ground. It put too much pressure on the right one, which was the worst. We had a big fight on our hands whenever we needed to change his padding, due to the pain this poor horse was in.
"After his boots arrived, things got better and better when we had to change the padding. We still cut up apples to divert his attention whenever we deal with cleaning and changing his boots. But after six months, we see light at the end of the tunnel. He is now is 75 percent better. His whole right hoof sounded hollow when we first started dealing with him.
Not anymore! Our farrier is very pleased with his progress so far. We don't think that there has been a farrier in Pilot's life for some time, due to the neglect his hooves showed.
"He wears his boots 24/7. They are cleaned and changed after rain since he is out with his friends in the pasture. We are so happy with his progress! Right now, Pilot is sound when wearing his boots. Heck, he is now sound without them, but until his farrier gives us the thumbs up to remove them, he will be protected by wearing them.
He wears Cavallo Trek Boots and I highly recommend them!"
Sign up here for Cavallo's free newsletter and special community discounts: https://www.cavallo-inc.com/CavalloNews
Cavallo President Carole Herder is the author of the #1 International Bestseller, There Are No Horseshoes in Heaven, and the newly released Hoofprints on The Journey.
She has been involved in horse health since 1993. Her company, Cavallo Horse & Rider Inc., develops, manufactures, and distributes horse products in 26 countries. Herder designed and developed Cavallo Hoof Boots and Total Comfort System Saddle Pads. She presents training sessions around the world to teach the benefits of keeping horses in a natural state. Herder is an honored recipient of the Royal Bank of Canada Woman Entrepreneur of the Year Award. She is a member of the Women's Presidents Organization, supporting female entrepreneurs in every industry.
Visit https://www.cavallo-inc.com to learn about the full line of Cavallo Hoof Boots. Call (877) 818-0037 from the USA or Canada or call direct, (604) 740-0037.
---
Press release by Jenny@Cavallo-Inc.com