May is National Asthma and Allergy Awareness Month and if there was a version of that for horses, Classic Royal Z could be the poster girl for it.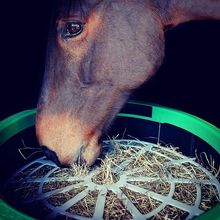 As usual, Rosie got her way. In the six months since starting on a regular steamed hay diet, the mare's mild breathing issues have gone away.
© 2018 by HayGain
The beautiful bay is sassy and bossy and has a great back story in having been the top prize in a Puissance jumping class at Canada's Thunderbird Show Park 11 years ago. The winner was Grand Prix rider and trainer JJ Atkinson, who now partners in the Denver area's Sleepy Hollow Farm with her husband and fellow horseman Mark Mead.
JJ cleared a 2-meter Puissance wall to win the class and "Rosie," who was just a filly then. The lifelong horsewoman knew the baby was a well-bred one from the Zangershiede line, bred by Grwig Bahle, but had little notion what she would become. Eleven years on, Rosie and JJ have had many successful outings on the 1.4 and 1.4-meter Grand Prix circuit, but their ascent has been sporadic in part because Rosie was diagnosed with a mild case of asthma a few years ago.
The condition fluctuates depending on location. At their home near Denver, it's more noticeable, possibly because of the Mile High City's altitude. Even at rest, Rosie's breathing was a bit labored, JJ explains. Texas in the spring is tough because of free-floating pollen. JJ has come to schedule their competitions around locations where she's confident Rosie can breathe easy, like the Country Heir shows at the Kentucky Horse Park where they'll be jumping in early June.
Management of Rosie's condition took a big turn for the better in November, with the purchase of a Haygain hay steamer at the Las Vegas National Horse Show. The high temperature steaming process rids hay of nearly all dust, bacteria, mold and other breathable irritants and a steamer had been on Mark and JJ's wish list for some time.
It seemed to have been on Rosie's wish list, too. Even before she'd tasted it, Rosie asserted her interest in the new feed. When the steamer was set up next to her stall, "She started nickering at me right away," JJ laughs. "It's like she was telling me, 'Hey dude, I need that!'"
As usual, Rosie got her way. In the six months since starting on a regular steamed hay diet, the mare's mild breathing issues have gone away.
Conditions on the Equine Asthma Spectrum affect a surprisingly large percent of performance horses, often with no symptoms. As a presenting vet as last fall's AAEP conference noted, respiratory issues are the number-one performance limiter in otherwise sound horses.
Treatments administered through inhalers only offer short-term help and typically can't be used within a few days of competing per medication rules, so it's an especially tough condition to manage for show horses.
Even with a mild and carefully managed case of asthma, Rosie has excelled in the jumper ring. JJ and Mark are excited about how high she might fly with the switch to steamed hay. "I've always told the vets that I can't get her in great shape," JJ explains. "She's been in really good shape, but not in the great shape where you want a Grand Prix horse to be." The easier breathing since eating steamed hay made that level of conditioning and stamina possible. "I attribute that to the hay steamer as an important piece of the puzzle."
"It's the best investment we've ever made," says Mark of the steamer purchase. "As horsemen and trainers, we need to take nutrition very seriously. This is an investment in our horses' health." JJ and Mark have only one regret. With 40-plus horses at Sleepy Hollow Farm, "I wish we'd bought the bigger unit!
Article provided by Haygain USA:
Haygain is a research-driven horse health company serving 19 countries. Haygain Hay Steamers, ComfortStall Therapeutic Sealed Flooring and Flexineb Portable Nebulizers are our top products. For more information, visit www.haygain.us or follow us on Facebook