Foaling Season is an exciting time for horse breeders and private horse owners alike. While many horse owners are still in cold weather mode during early spring, keeping water buckets from freezing and battling mud, equine breeders are getting ready for foaling season.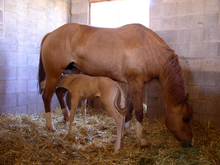 Support a healthy and successful foaling season with these tips from Arenus Animal Health.
© 2012 by Shutterstock New window.
For new breeders, knowing what to expect and how to prepare this foaling season makes the process less daunting.
If you are a new breeder or horse owner looking to breed, here are the top four tips Arenus Animal Health recommends for a successful foaling season.
Be Prepared with a Foaling Kit – Having the right supplies on hand when your newborn foal arrives is essential. A few necessities include: scissors, clean towels, a stainless-steel bucket, liquid soap like Dawn or Ivory, umbilical clamps, tinctures of iodine, and twine. You may also want to include disposable gloves, disposable bandages, flashlights, batteries and a reliable phone with your vet or an experienced foaling person's contact information.
Have a Designated Area to Foal – Small spaces are helpful when your mare is foaling. It is easier to watch your mare foal and keep track of her in a designated indoor space. Make sure your space is clean, well-lit, stocked with hay and disinfected. If you opt for a small, outdoor space, make sure it is also clean, dry and free of mud. Your new foal's immune system is not yet developed and prone to infection, so a sterile space is important for its health.
Give Your Mare and Foal Space – Once your foal arrives, care for your mare and foal is not too much different than care for your other horses. Give your mare and foal a quiet, clean and dry space to rest and nurse. Your foal may be ready for turnout in as little as 24 hours if he or she is born healthy and without any orthopedic issues.
Support Your Mare & Foal's Health - You will want to schedule a veterinarian appointment soon after the birth for both mare and foal, to make sure they are in good health. Your vet may administer an IgG test to see if your foal received enough colostrum, the immunoglobin rich milk that gives your foal its first immune defense.
Will your foal become an equine athlete or performance horse? Consider supporting your foal's structural system with Arenus Animal Health's Steadfast Equine Growth. This formula is designed to provide a strong foundation of healthy bones and soft tissue, suited for the rigors of athletic performance. It uses our unique TêlaFIRM technology, Sodium Zeolite A and ascorbic acid to promote the formation of healthy bone and soft tissue in horse. Many horse owners even begin feeding Steadfast Equine Growth to their mares while pregnant to give their foal the best chance at a strong, structural system.
Eq-Well is another great option for every horse in your barn. Our newest vitamin-mineral balancer is specifically designed for horses of all ages and all performance levels. It contains Copper, manganese, and zinc from TelaFIRM-S which are double chelated, making them extremely bioavailable and allowing your horse to receive maximum benefit from these minerals.
Learn more about the full line of Arenus Animal Health products by visiting Arenus.com. Currently, site visitors can enjoy a free 8 oz. of Sore No-More Liniment when they purchase select Benefab by Sore No-More products. Visit Arenus.com to place your risk-free order today.
About Arenus Animal Health
Arenus Animal Health has been a leader in the animal health products industry since 2007. Arenus Animal Health offers health solutions for companion animals as well as competitive animal athletes. Arenus Animal Health's nutraceutical line offers complete digestive solutions to horses as well as total joint health for horses and dogs. Arenus Animal Health also offers a complete line of herbal health solutions for both companion and competitive animals. For more information on Arenus Animal Health, visit www.arenus.com.