Take a minute and think of two of your horse friends. Now consider this: If you each own one competition horse, statistics suggest that two of those horses will have stomach ulcers.1 The signs can be subtle, such as an undesirable attitude or poor performance, and can signify a serious health risk that can potentially lead to other issues like colic.2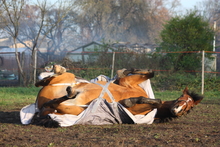 Boehringer Ingelheim is partnering with equine veterinarians to create awareness about the signs and definitive diagnosis of Equine Gastric Ulcer Syndrome.
© 2017 by Shutterstock
To underscore the importance of equine gastric health, during the month of August, Boehringer Ingelheim is encouraging equine veterinarians to provide client education that helps to increase awareness of the signs of EGUS.
Signs suggestive of EGUS include, but are not limited to, changes in eating and drinking behavior, weight loss, undesirable behavior, recurrent colic, dull hair coat and/or less-than-optimal performance.2 If your horse is showing signs, ask your veterinarian about gastroscopy, the only definitive way to diagnose stomach ulcers.
Watch
What does a gastroscopic exam entail? The Gastroscopy 101 video guides horse owners through what happens during a typical scoping.
Read
Educational articles about EGUS are available at Ulcergard.com/GutCheck and at TheHorse.com for Ulcer Awareness Month.
Call
Contact your veterinarian to learn how they can help provide additional education on equine gastric ulcer syndrome.
Remember
While August has been designated as Ulcer Awareness Month by the The Horse, gastric health should be top-of-mind for horse owners year-round, especially when it comes to preventative management practices.
Veterinarians: Inform your clients
To host a gastric ulcer educational event, download the Gut Check toolkit at Gastrogard.com/VetResources. Boehringer Ingelheim sales representatives can support veterinarians educating their clients about gastric health, creating more opportunity to treat horses suffering from gastric ulcers.
About Boehringer Ingelheim Animal Health
Boehringer Ingelheim is the second largest animal health business in the world. The company is committed to creating animal wellbeing through its large portfolio of advanced, preventive healthcare products and services. With net sales of €3.9 billion and around 10,000 employees worldwide, Boehringer Ingelheim's Animal Health business is present in more than 150 markets. For more information, click here.
About Boehringer Ingelheim
Boehringer Ingelheim is one of the world's top 20 pharmaceutical companies. Headquartered in Ingelheim, Germany, the company operates globally with approximately 50,000 employees. Since its founding in 1885, the company has remained family-owned and today creates value through innovation in three business areas including human pharmaceuticals, animal health and biopharmaceutical contract manufacturing. Boehringer Ingelheim is committed to improving lives and providing valuable services and support to patients and their families. In 2017, Boehringer Ingelheim achieved net sales of about $20.4 billion (18.1 billion euros). R&D expenditure corresponds to approximately $3.4 billion (three billion euros), or 17.0 percent of its net sales.
More information about Boehringer Ingelheim can be found on www.boehringer-ingelheim.com or in the company's annual report at http://annualreport.boehringer-ingelheim.com
1Mitchell RD. Prevalence of gastric ulcers in hunter/jumper and dressage horses evaluated for poor performance. Association for Equine Sports Medicine, September 2001.
2Equine Gastric Ulcer Council. Recommendations for the diagnosis and treatment of Equine Gastric Ulcer Syndrome (EGUS). Equine Vet Educ. 1999;11:262-272.