The Equine Disease Quarterly for the third quarter of 2018 shares a report from the International Collating Centre, Newmarket, United Kingdom, and other sources which reported the following equine disease outbreaks: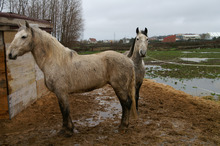 International Collating Centre, Newmarket, United Kingdom, and other sources have reported the equine disease outbreaks that occurred during 3rd quarter of 2018.
© 2017 by Elliott Moore
The final four cases of African horse sickness to be reported by the Republic of South Africa (RSA) this season occurred during the first half of July; two were in Eastern Cape Province, one in Free State Province and one in KwaZulu-Natal.
An outbreak of glanders was reported by P.R. China. The disease was confirmed in 17 horses at an equestrian club, one of which died.
Equine influenza was confirmed in Colombia, Germany and the USA. The disease occurred in 16 of 32 departments in Colombia, with over 2,700 recorded cases including one death. The German outbreak involved five unvaccinated horses. Equine influenza is endemic in the USA with evidence of infection identified in three states.
Belgium, France, Germany, Ireland, Switzer- land, the UK, and the USA reported multiple outbreaks of strangles. The number of confirmed outbreaks ranged from two in Germany and Switzerland, three in Belgium, 17 in France, 60 in Ireland, and 154 in the USA. The disease is endemic in the UK and the USA.
Equine herpesvirus 1 related diseases were recorded by Argentina, Belgium, Canada, France, Germany, Japan, RSA, Switzerland, and the USA. Respiratory disease was diagnosed in Belgium (11 outbreaks), France (two outbreaks), RSA (one outbreak), and the USA (outbreaks in numerous states).
Cases of EHV-1 abortion were reported by Argentina (one outbreak involving 15 cases in Thoroughbreds, all with incomplete vaccination histories), Japan, and RSA (single case in each country). EHV-1 neurologic disease was confirmed in Canada (two outbreaks), Germany and Switzer- land (single case in each country), and the USA (six outbreaks involving single cases of the disease).
Equine herpesvirus 4 respiratory disease was diagnosed in France (20 outbreaks), Germany (three cases involving two premises), and the UK (seven outbreaks, most of which represented single cases of infection in unvaccinated horses).
Germany reported equine arteritis virus infection in a stallion.
Equine infectious anemia was confirmed in Canada, France, and the USA. Two outbreaks involving single cases of asymptomatic infection were recorded by Canada. France diagnosed a single case, and the USA identified 17 cases involving horses in five states, the preponderance in Texas.
The RSA reported equine piroplasmosis as occurring in four provinces, with the majority of confirmed cases in Gauteng Province.
Contagious equine metritis was confirmed in France (single clinical case in a mare) and Germany (10 cases, all in non-Thoroughbreds, the majority were Icelandic horses; nine premises were involved.)
Ireland and the USA reported outbreaks of salmonellosis. A total of 14 mares and foals were involved in an outbreak in Ireland. Of 11 cases diagnosed in the USA, nine were associated with Salmonella serogroup B isolates.
Equine neorickettsiosis was reported by the USA. The disease was confirmed in five states, with the highest number of cases (26) recorded in Kentucky, of which six died.
Clostridial enterocolitis was diagnosed in a limited number of cases in the USA, all associated with infection of undetermined toxin type.
The USA reported one case of proliferative enteropathy Lawsonia intracellularis infection).
The third quarter of 2018 saw cases of Eastern equine encephalomyelitis confirmed in Canada (9) and the USA (39), the majority of which were in unvaccinated horses. Florida and Georgia were the most severely affected states in the USA.
West Nile virus infection was reported by Canada (14 cases), France (6 cases), Greece (one case), Germany (one case), Italy (105 cases), Ro- mania (one case), RSA (one case), and the USA (140 cases, many in the state of Ohio).
Australia confirmed one case of Hendra virus infection in an unvaccinated horse on a premises in New South Wales.
A single case of equine encephalosis was diagnosed in a horse in the RSA Province of Gauteng.
---
Article provided by Diane Furry, Gluck Equine Research Center, Department of Veterinary Science, University of Kentucky