One benefit of being older is the ability to reflect on many equine medical crises. Contagious equine metritis was the first notable crisis of my career, but I have unfortunately witnessed numerous others including: equine viral arteritis, leptospirosis, mare reproductive loss syndrome, track breakdowns, and more recently nocardioform placentitis.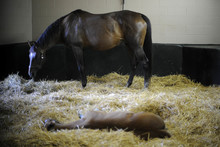 In cases of equine disease crises, scientists have stepped up to search for solutions showing the positive results when practitioners work with scientists on medical issues facing our horses.
© 2016 by Carien Schippers
With each of these crises, scientists have stepped up to search for solutions, and I have seen first-hand the positive results that take place when practitioners work with scientists on the medical issues facing our horses.
This year central Kentucky has again been confronted with a substantial increase in the number of nocardioform placentitis cases. As with any case of placentitis, and certainly with nocardioform placentitis, the first clinical sign that the mare's pregnancy may be compromised is evident with "bagging up" early, which is horseman's lingo for premature lactation or increased udder size.
Unlike ascending placentitis, there is usually no vulvar discharge in mares with nocardioform placentitis.
For the most part, it is relatively easy to diagnose nocardioform placentitis after the mare has either aborted or foaled, as the placenta is usually covered by a very characteristic brown mucoid discharge—many people think it looks like peanut butter.
A diagnosis of nocardioform placentitis is more challenging before the mare delivers her foal (or fetus) and is made based on clinical signs and abdominal ultrasound scans. Nocardioform placentitis frequently forms lesions on the ventral aspect of the placenta.
This unique location negates the usefulness of the standard placentitis ultra- sound measurement of the combined thickness of the uterus and placenta (CTUP), which is taken by rectal ultrasound of the uterus and placenta near the cervix.
With suspect nocardioform placentitis cases, one may see a range of abnormalities on trans- abdominal ultrasound scans. These include pockets of separation with apparent exudate between the uterus and placenta and signs of placental inflam- mation. It is important to note that not all lesions will be apparent by this method, and placental examination for lesions should still be done after abortion or parturition.
The greatest incidence of nocardioform placenitis occurs in December, January, and February. As we enter March, the number of cases should soon decrease. While we have unfortunately seen an increased incidence of nocardioform placentitis this year, one positive is that more cases have been examined and increased samples have been collected to better understand this unique condition.
---
Press release by Diane Furry, Equine Disease Quarterly April 2020 - Article by Tom Riddle, DVM - Rood and Riddle Equine Hospital