The second horse racing safety bill of the year was introduced in the Assembly on Tuesday. A bill introduced last month in the Senate, SB 800, promised similar reforms, although with less detail.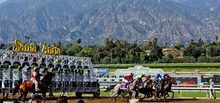 The second horse racing safety bill of the year was introduced in the California Assembly on Tuesday February 11, 2020.
© 2018 by Santa Anita Race Track New window.
Assembly Bill 2177, authored by Assemblyman Ash Kalra (D-San Jose), would introduce more race horse welfare and safety regulations, regulate supplements that can be given to race horses, and would have veterinarians review histories of race horses before they can run.
In addition, AB 2177 would have racetracks introduce more technology such as cameras and CT scanners to ensure horse health and safety, would make all horse drug tests available for the public, and would have several other additional veterinary and medicinal reforms, such as having an on-site equine pharmacy at the racetrack.
The reforms supported by Assemblyman Kalra and Senator Bill Dodd (D-Napa) in their respective reforms come after an unusually high death count of over 100 horses in the 2018 and 2019 seasons, with Santa Anita Park in Arcadia recording 32 untimely deaths in 2019 alone.
A number of reasons, ranging from trainer neglect to medical conditions exacerbated by racing to rough track conditions have been cited as major factors in the spike of deaths. The high number of deaths also spurred numerous protests at racetracks last year.
Assemblyman Kalra expanded upon his reasons in authoring AB 2177, also known as the Equine Welfare and Safety in Horse Racing Act, in a on Tuesday.
"If the state is to continue to sanction horse racing and it is wagering as a legal sport, addressing horse fatalities to the greatest extent possible needs to take precedence," said Assemblyman Kalra on Tuesday.
"AB 2177 tackles the practices that can lead to broken bones and death, including the misuse of medication, running horses with pre-existing injuries, utilizing unsafe racing surfaces, and more. I look forward to working with the state regulators and all those working in the horse racing industry to enact bold action to protect both horses and jockeys."
---
Press release provided by California State Assembly