Congress released a $1.3 trillion omnibus spending bill on March 22, 2018 which has now been signed by President Trump. Good news for animals is found in the bill, with regards to horse slaughter, wild horses and burros, wolves, the USDA data purge, animal testing alternatives and much more.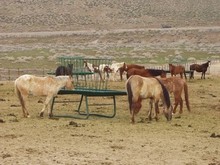 Good news in newly signed congressional spending bill relates to horse slaughter, wild horses and burros, wolves, the USDA data purge, and much more.
Mike Markarian, president of the Humane Society Legislative Fund, stated: "There are some anti-animal provisions in the omnibus, such as exempting concentrated animal feeding operations from reporting toxic air emissions, and restating previously-enacted riders such as the prohibition on regulating toxic lead content in ammunition and fishing tackle which poisons wildlife." "Overall, this omnibus bill has a lot to cheer about for animals. We're grateful for the inclusion of key language such as on horse slaughter and the USDA purge, for the funding increases, and for the removal of some extremely hostile provisions against wildlife."
Excerpts from the blog by Mike Markarian include the following information:
Horse Slaughter:
The bill includes language that prohibits wasteful government spending on horse slaughter inspections and effectively bans horse slaughter in the United States for human consumption. This language has been maintained all but one year since 2005, and ensures that millions of taxpayer dollars are not expended on resuming an inhumane and predatory practice in which young and healthy horses are rounded up by "kill buyers"—often misrepresenting their intentions—and their meat shipped to Europe and Japan.
Wild Horses and Burros:
The bill includes language to prevent the Bureau of Land Management and its contractors from sending wild horses to be slaughtered for human consumption, or from killing excess healthy horses and burros. A provision allowing wild horses removed from public lands to be transferred to federal, state, or local governments to serve as work horses continues to make clear that these horses cannot be destroyed for human consumption, or euthanized except upon the recommendation of a licensed veterinarian in cases of severe injury, illness, or advanced age.
You can read the breakdown of our top priority items in the spending bill on Mike's blog.