The American Wild Horse Campaign (AWHC) is blasting the Nevada Department of Agriculture (NDA) for issuing a Request for Proposals (RFP) to "give away" 3,000 Virginia Range wild horses that is illegal under Nevada Revised Statutes and fraudulent because is impossible to fulfill "In the spirit of protection and preservation," as Governor Brian Sandoval specified to constituents in a January 5, 2018 letter.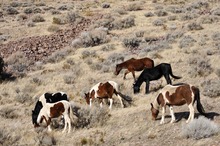 The Nevada Dept of Agriculture's attempt to give away the Virginia Range horses and protect them as free-roaming horses on the Virginia Range is problematic for numerous reasons.
© 2018 by Carien Schippers
In response to the NDA's release today of an RFP for transfer of ownership, AWHC announced that, based on its extensive research, no insurance carrier will provide full liability coverage for a private entity to own 3,000 free-ranging horses on 500 square miles of land.
"Not only is this RFP in conflict with Nevada law, but also it's false as advertised," said Deniz Bolbol, director of Field Operations for the American Wild Horse Campaign, "AWHC has confirmed that no liability insurance is available to a private entity for coverage of 3,000 privately-owned horses free roaming over 500-square miles of habitat that includes thousands of private property parcels, multiple urban areas, highways and other busy thoroughfares."
"Therefore, only an entity that intends to remove and destroy the horses could possibly assume ownership," Bolbol continued. "The NDA set the stage to destroy the Virginia Range horses by cancelling the community-based Cooperative Agreements for humane management. That's unconscionable and we will not allow it to stand."
The NDA attempt to giveaway the Virginia Range horses and protect them as free-roaming horses on the Virginia Range is problematic for numerous reasons, including:
Legal Issues: Article 4, Section 1 of the Nevada State Constitution states: "The Legislative authority of this State shall be vested in a Senate and Assembly…". By overwhelming bipartisan majorities that legislative authority was properly exercised with the passage of legislation and the subsequent signing into law by Governor Brian Sandoval of NRS Chapter 569. That statute makes abundantly clear that ownership in the Virginia Range horse herd is vested in the State of Nevada through the Nevada Department of Agriculture and that management of such herd shall be done in partnership with local organizations. There is no provision under the law that gives the NDA the right or ability to convey ownership of these horses to a private entity. (See AWHC legal letter here.)
Public Oversight: As long as the horses remain under the jurisdiction of the state, the public has input into how they are managed. Should the plan to giveaway the horses proceed, the public would no longer have any say into how these beloved horses are managed and treated.
Liability Issues: AWHC has conducted extensive research into liability insurance for a private entity to take "ownership" of the horses and learned that no insurance company is willing to provide liability insurance needed for the 3,000 free-roaming horses who live and move throughout the 500-square-mile Virginia Range.
Livestock insurance agents were unable to identify any livestock insurance companies that would provide a quote for full liability coverage. Insurers including Kinsale Insurance Company, James River, Markel Specialty and Lloyds also declined to provide a quote; one agent found one broker that would provide a quote to only cover the horses in limited "non-open range" excluding highways and other roadways.
On October 25, 2017, AWHC received a termination notice from the NDA for two Cooperative Agreements between the organization and the State of Nevada for the rescue and humane management of the Virginia Range horses.
The termination means that NDA no longer is legally required to notify humane horse organizations when Virginia Range horses have been removed from the wild and are being sent to slaughter auction.
It also halted the successful humane birth control program that reduced the reproductive rate of Virginia Range horses by approximately 27 percent in 2017.
The American Wild Horse Campaign (AWHC) is dedicated to preserving American wild horses and burros in viable, free-roaming herds for generations to come, as part of our national heritage. Its grassroots mission is endorsed by a coalition of more than 60 horse advocacy, humane and public interest organizations.