Today, November 15, 2017, at 11 AM, local wild horse advocacy organizations and citizens will gather to protest in front of the Capitol Building calling on Governor Brian Sandoval to cancel the recent termination of the community-based wild horse Cooperative Agreement with the American Wild Horse Campaign (AWHC) to humanely manage the Virginia Range horses.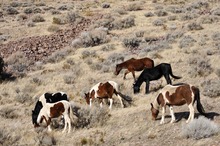 Nevada Governor Sandoval is being urged to rescind the termination of the Virgina Range Horse Cooperative Agreement with AWHC which includes the humane birth control program.
© 2017 by Carien Schippers
As the Virginia Range continues to be developed the horses' habitat shrinks and with a growing horse population the Virginia Range horses are put in greater danger. Without the successful birth control program which began over the past two years under the Cooperative Agreement there will likely be an increase of vehicle-horse accidents and more horses will be rounded up and removed from the range.
WHEN: Wednesday, November 15, 2017 at 11 AM
WHERE: Capitol Building, 101 N. Carson Street, Carson City, NV
WHAT: Local Groups Urge Governor Sandoval to Rescind the Termination for the Virginia Range Horse Cooperative Agreement with AWHC which includes the humane birth control program.
Local wild horse organizations including the Virginia Range Wildlife Protection Association (Virginia City Highlands), Wild Horse Connection (Reno), and Wild Horse Preservation League (Dayton) have dozens of supporters who have devoted thousands of volunteer hours to make the humane birth control program a success.
The AWHC, a national non-profit organization dedicated to protecting America's wild horses, has acted as an umbrella for all the local organizations work to implement the successful and largest humane management of wild horses in the world. In just four years, the Cooperative Agreement has effectively kept 500 horses off the range through rescue and humane birth control.
It is estimated that there are approximately 2,700 horses living on the 500-square-mile Virginia Range which spans from Reno to Carson City and Fernley to Silver Springs.
The American Wild Horse Campaign (AWHC) (formerly known as the American Wild Horse Preservation Campaign) is dedicated to preserving American wild horses and burros in viable, free-roaming herds for generations to come, as part of our national heritage. Its grassroots mission is endorsed by a coalition of more than 60 horse advocacy, humane and public interest organizations.