This week, seven wild horses and burros bearing the brand of the U.S. Bureau of Land Management (BLM) arrived at the Bay Area's largest equine sanctuary, Freedom Reigns, after being rescued from slaughter. The 4,000-acre ranch, founded by Silicon Valley philanthropist Alicia C. Goetz and located 40 miles south of San Jose, provides refuge for over 500 wild and domestic horses rescued from slaughter.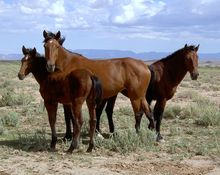 Equine refuge steps up to save 7 wild horses and burros adopted through controversial Bureau of Land Management Adoption Incentive Program then dumped at slaughter auctions.
© 2017 by Kersti Nebelsiek New window.
The newest rescues are victims of the BLM's controversial Adoption Incentive Program (AIP), which pays private individuals $1,000 to adopt an untamed, unhandled horse or burro. In May, a front-page New York Times report exposed the program. as a pipeline to slaughter for truckloads of these iconic animals. The BLM, the agency that manages the nation's federally-protected wild horses and burros, created the program to clear its holding pens in preparation for its controversial plan to round up and remove tens of thousands of wild horses and burros from public lands over the next decade.
"America's wild horses and burros are national treasures, but far too many are being rounded up and placed at risk of slaughter for human consumption overseas," said Goetz, who is also a board member of the American Wild Horse Campaign. "Freedom Reigns is honored to provide safe haven for these beautiful mustangs and burros whose story will now have a happy ending at our ranch where they will be able to run free as part of our herd."
The three mustangs were part of a group of ten wild horses rescued by Evanescent Mustang Rescue and Sanctuary with AWHC's support from a notorious Colorado kill pen. The four burros were part of a group of 12 adopted by a family who collected $12,000 in taxpayer AIP funds before dumping them in an Oklahoma kill pen. They were also rescued by Evanescent with support from AWHC. All seven equines would have been shipped to slaughter in Canada or Mexico if not rescued.
As documented in the American Wild Horse Campaign investigation that led to the New York Times report, the AIP is violating a long-standing Congressional ban on wild horse and burro slaughter. Adopters are defrauding taxpayers by signing a contract pledging under penalty of criminal prosecution not to sell the animals for slaughter, then sending them to slaughter auctions as soon as the AIP payments clear their bank accounts. The BLM has so far resisted calls by AWHC, U.S. Senator Feinstein, and over 30 members of Congress to immediately suspend the program while a thorough investigation is undertaken. Early this month, AWHC filed suit in federal court to halt the program.
About Freedom Reigns Equine Sanctuary
Freedom Reigns Foundation is a non-profit 501C (3) that is dedicating to improving the lives of horses by rescuing those that are destined for slaughter and providing them a safe haven; backing legislature that improves the quality of life for horses in many industries; and educating the public on the plight of so many horses in need.
About the American Wild Horse Campaign
The American Wild Horse Campaign (AWHC) is the nation's leading wild horse protection organization, with more than 700,000 supporters and followers nationwide. AWHC is dedicated to preserving the American wild horse and burros in viable, free-roaming herds for generations to come, as part of our national heritage.
---
Press release by Amelia Perrin - American Wild Horse Campaign