Brand Names
Ivercide Equine Paste
Ivermax Equine Oral Liquid
Ivermax Equine Paste Dewormer
Ivermectin Paste 1.87%
Parid EQ Liquid for Horses
Description

Ivermectin is a drug mixture of two structurally semisynthetic lactones that is used in veterinary medicine as an anthelmintic, boticide, acaricide, and insecticide. Ivermectin has a broad spectrum of activity against intestinal and insect parasites, and kills migrating larvae. Most veterinarians recommend its use in all horse deworming programs because of its results.
Injectible form is frequently used extra-label and requires veterinary prescription.
Usage
Under a veterinarian's assistance in the diagnosis, treatment, and control of parasites, ivermectin provides effective broad spectrum control of the following: bots, habronema, ascarids, strongyles, thread worms, pinworms, tape worms, lung worms, and is also effective against the filaria of Onchocerca, larvae of habronema, and arterial larvae stages of strongyles.
Dosage and Administration
Ivermectin
Method
Dosage
(click row for calculator)
Concentration
Period
Duration
Oral paste1
0.2 mg/kg
136.5 mg/syringe
Consult veterinarian4
NA
Oral liquid2
0.2 mg/kg
10 mg/ml
Consult veterinarian4
NA
Intramuscular injection3
0.2 mg/kg
10 mg/ml
Consult veterinarian4
NA

Notes:

1Calibrated syringe with 1.87% ivermectin paste - see product label insert.
2Administer with stomach tube or oral drench.
3Federal law restricts this drug to use by or on the order of a licensed veterinarian.
3Extra-label use of drugs in treating animals is allowable only by licensed veterinarians within the context of a valid veterinarian-client-patient relationship, and does not include drug use in treating animals by the layman (except under the supervision of a licensed veterinarian).
4Consult your veterinarian for a control program to meet your specific needs.
Ivermectin may be used in horses of all ages, including mares at any stage of pregnancy and foals that are 6 to 8 weeks old.
New arrivals should be dewormed with ivermectin and quarantined for 3 weeks before being allowed in areas with resident horses.
Calculator is for educational purposes only. Follow your veterinarian's instructions regarding use of this, or any medication.
Side Effects
Swelling and itching reactions after treatment with ivermectin have occurred in horses with heavy infections of neck threadworm microfilariae. The reaction is most likely the result of microfilariae dying in large numbers. Symptomatic treatment may be advisable. Consult a veterinarian, should any reactions occur.
Precautions
Ivermectin is formulated specifically for use in horses. Do not use in treatment of any other animal species, as severe adverse reactions may occur. Wash hands after use. Avoid contact with eyes. Do not contaminate ground or surface water. Dispose of containers and syringes in approved landfill or by incineration.
Interactions
No interactions are noted in literature.
Overdose
Ivermectin is toxic. Immediately consult with a veterinarian if overdosing occurs.
Images

IverCare Injectable Paste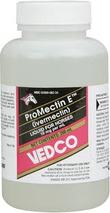 ProMectin Ivermectin Oral Tablets
Literature