Description

Omeprazole is used to prevent ulcers in horses and is also FDA approved to treat existing stomach ulcers. Studies have shown that more than 90% of race horses and more than 60% of performance horses experience gastric ulcers. The stress brought about through changes in routine, diet, and exercise regimens, along with traveling and competition, may contribute to their development. Omeprazole suppresses acid production in the horse's stomach by acting as a gastric acid (proton) pump inhibitor.
Usage
Omeprazole is mainly used to prevent ulcers in horses that are subjected to stress or other conditions that make them prone to stomach ulcers. It is also used to treat cases of existing ulcers. Omeprazole is sometimes prescribed as a precaution when NSAIDs, corticosteroids, and other drugs known to cause stomach ulcers are administered. Maximum suppression of acid production occurs three to five days after beginning treatment.
Dosage and Administration
Omeprazole
Method
Dosage
Concentration
Period
Duration
Gastrogard® - For gastric ulcers and prevention or recurrence
Oral
1.8 mg/lb
Calibrated syringe
Daily
Weeks 1 through 4
Oral
0.9 mg/lb
Calibrated syringe
Daily
Weeks 5 through 8
Ulcergard® Gastric ulcer preventative1
Oral
0.25 syringe2
Calibrated syringe
Daily
4 weeks

Notes:

1During periods of stress for horses 600 pounds (272 kg) to 1200 pounds (544 kg).
2For horses over 1200 pounds (544 kg), dose is 0.5 syringe.
Federal law restricts this drug to use by or on the order of a licensed veterinarian.
Extra-label use of drugs in treating animals is allowable only by licensed veterinarians within the context of a valid veterinarian-client-patient relationship, and does not include drug use in treating animals by the layman (except under the supervision of a licensed veterinarian).
The duration of administration depends on the condition being treated, response to the medication and the development of any adverse effects. Be certain to complete the prescription unless specifically directed by your veterinarian. Even if your equine appears to feel better, the entire treatment plan should be completed to prevent relapse.
This medication may be available in forms and concentrations not noted in the above table. Always check the label and literature provided with the medication about the form and concentration and DO NOT USE the calculator if the information differs.
Side Effects
No adverse side effects are listed in manufacturer's information.
Precautions
Omeprazole should be used with caution in horses that have liver disease or decreased liver function. Dosage may need to be decreased.
Omeprazole is not recommended for use in pregnant or lactating mares.
Omeprazole is FDA approved for use in horses and is a prescription drug restricted to use by or on the lawful written or oral order of a licensed veterinarian.
Omeprazole is commonly used in competition and race horses. Individual racing commissions may have established permitted detection levels for this drug. It is important to check with a knowledgeable veterinarian and with the individual regulatory agency in each case.
Interactions
Omeprazole may affect the clearance of anticoagulants, such as warfarin.
Omeprazole has been used with a variety of commonly given equine medications, including vaccines, antibiotics, diuretics, dewormers, tranquilizers, nonsteroidal anti-inflammatories, and corticosteroids without adverse drug interactions.
Overdose
A wide safety margin has been reported in safety trials conducted by the manufacturer.
Images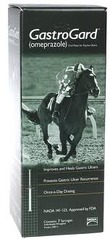 Omeprazole GastroGard

Omeprazole UlcerGard
Literature